Mr. John Publishes an Infographic on the Benefits of Porta John Rentals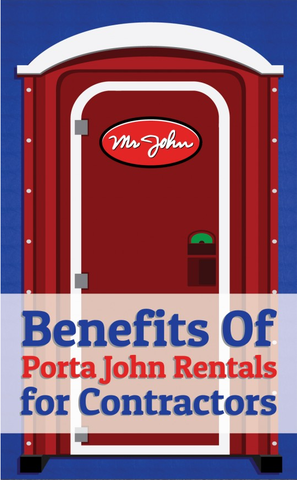 March 26, 2014 - Mr. John, a portable restroom rental company, has created an infographic to illustrate the many benefits that contractors can access by renting portable bathrooms for their work sites. Even better, the benefits of porta johns translate into calculable monetary savings for site owners and project managers.
On average, for every $1 invested in porta johns, there is a $4 return. This return comes from a number of sources. The primary reason is that on-site porta johns reduce the time that workers spend taking bathroom breaks. Without an on-site bathroom, workers are forced to drive or travel off-site to find a nearby gas station or supermarket to use the facilities. This means workers spend more time away from their duties, which lengthens the time it takes for the overall project to be completed. It also means paying workers more to do less.
If workers cannot find adequate facilities quickly (either there are no bathrooms on-site or there are too few so the lines are long), they may choose to void on the infrastructure being built, work equipment, or construction materials. This may have the inadvertent effect of damaging property or spoiling materials. Replacing these items further adds to project time and cost. It also lowers the overall sanitation and safety of the work site for other employees.
Finally, porta johns use only 10% of the water that conventional toilets require, saving employers more resources throughout the project.
Porta johns are useful in all types of construction projects. From building factories and power plants to small residential homes, all types of projects can save on cost, speed up operations, and maintain a better work site by utilizing portable toilets.
For more information about the advantages of renting porta johns, read the full infographic:
http://www.mrjohnpit.com/infographic-benefits-porta-john-rentals-contractors/
Mr. John is a portable bathroom rental company that serves the Western Pennsylvania area. In addition to a variety of standard and VIP toilet rentals, Mr. John also offers mobile offices and storage containers. Whether you need to order porta johns for a construction project or luxury restroom trailers for weddings and other outdoor events, contact Mr. John for your mobile toilet rental needs:
http://www.mrjohnpit.com/