Medcom, Inc. Introduces 5-Part Series on Infection Control in Healthcare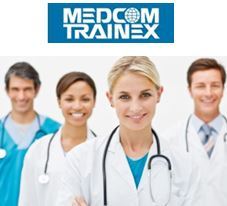 Cypress, CA – Well-known for their growing selection of quality healthcare education videos and training tools, Medcom is proud to make the Infection Control in Healthcare Series one of their choices in nursing education materials. The control and prevention of the spread of infection has long presented challenges to all types of healthcare facilities. The seriousness of bloodborne pathogens like HIV, hepatitis B and C, and an increasing number of multidrug-resistant organisms has made this issue an even more important goal for healthcare professionals.
The five-part series being offered by Medcom, Inc. provides nurses and other healthcare professionals with the important information they need to understand and implement practical strategies in keeping both patients and coworkers safe from infectious pathogens. Each program is designated for 0.5 contact hours of continuing nursing education.
Titles Included in the 5-Part Series Are:
Infection Control in Healthcare: An Introduction (Program #M275A)
Infection Control in Healthcare: Regulatory and Administrative Measures (Program M275B)
Infection Control in Healthcare: Precautions (Program #M275C)
Infection Control in Healthcare: Safe Work Practices (Program #M275D)
Infection Control in Healthcare: Multidrug-Resistant Organisms (Program #M275E)
Medcom is a leading producer and distributor of healthcare education in various formats including print materials, video programs, and an internet-based learning management system that they developed with the assistance of working healthcare professionals. Their titles include nursing videos, certified nursing assistant training and many other related programs. They include educational materials for healthcare professionals as well as students, patients and those interested in healthcare issues.
To learn more about the Infection Control in Healthcare Series and the wide range of educational nursing videos they have to offer, visit their website at
www.medcomrn.com
. You can also learn more by using the website contact form. To talk with a representative, call 800-877-1443. A more detailed description of the Infection Control in Healthcare series is available online at
http://www.medcomrn.com/product_category/Infection_control
.
About Medcom
Medcom has a 50-year period of experience at producing and distributing healthcare education, and they are credited with being one of the largest producers and distributors of nursing education videos in North America. They have won more than 50 major awards for excellence, including the Emmy. The company is based in Cypress, CA.