Hillside Rehab Facility Publishes a Slide Show on Alcoholism Risk Factors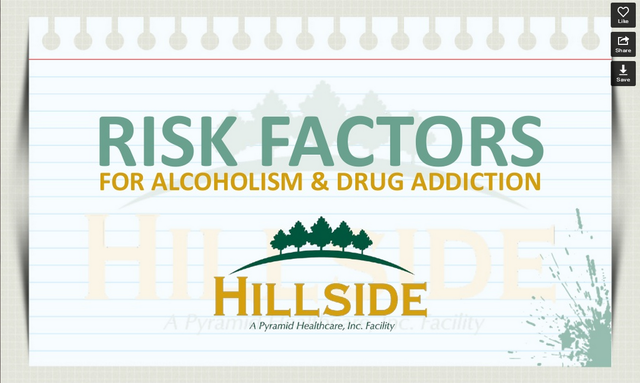 Hillside, a Pennsylvania-based inpatient residential alcohol and drug addiction rehab facility, created a slide show to help people assess their personal risk for addiction. The slide show, published to Hillside's website, highlights the main risk factors that can lead to alcoholism and drug addiction.
The slide show provides detailed statistics for each category, giving some insight into why each factor can lead to an issue with addiction. The risk factors covered are:
Age (Adolescence): About half of people who drink before age 14 become alcoholics by age 21.
Age (Elderly): Substance abuse affects 17% of those aged 60 and older.
Gender (Male): Men are about twice as likely as women to develop a drug or alcohol addiction.
Family History: People with a family history of substance abuse are likely to drink or use substances earlier, increasing the likelihood of addiction. A history of physical abuse also increases the likelihood of substance abuse.
Race/Ethnicity: Substance abuse ranges widely between ethnicity, from 21.8% of Native Americans to just 3.2% of Asian Americans developing substance addictions.
Presence of Psychiatric or Behavioral Disorders: Dual Diagnosis (the co-occurrence of drug/alcohol abuse and a psychiatric disorder) is found within 37% of alcohol abusers and 53% of drug abusers. The most common disorder accompanying alcohol or drug abuse is depression. The effects of both substance abuse and psychological issues complicate and feed the other disorder.
While these risk factors do not necessarily guarantee or lead to the occurrence of drug or alcohol addiction, they do indicate if an individual is more prone than others to addiction. If individuals know they are at higher risk, they can make more informed decisions about alcohol consumption and drug use, precluding addiction before it has an opportunity to develop.
To learn even more about the risk factors for alcoholism and drug addiction, see the full slide show:
http://www.recoverathillside.com/slide-show-risk-factors-alcoholism-drug-addiction
Hillside is a holistic drug and alcohol treatment center in East Stroudsburg, Pennsylvania. In addition to programs for residential detox and inpatient drug and alcohol rehabilitation, services to support family involvement in recovery, exercise therapy, and dual-diagnosis treatments are incorporated into a client's treatment depending on the individual's needs. For more information about enrolling in a detox or inpatient drug rehabilitation program in Eastern Pennsylvania, contact an admissions counselor at Hillside:
http://www.recoverathillside.com/