Eastern Dentist Insurance Company Launches "The Colleagues' Choice Program"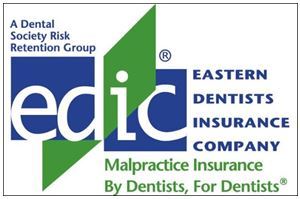 March 26, 2014 - Westborough, MA -
Eastern Dentist Insurance Company
(EDIC), a trusted dental liability insurance broker, has developed a comprehensive insurance package designed specifically for dentists who currently own or are invested partners in a dental practice. Named, "The Colleagues' Choice Program," this commercial insurance package covers all aspects of dental liability, including malpractice insurance, property and general liability insurance, employment practice liability and worker's compensation.
"As a by-dentist-for-dentists insurance provider, we understand the unique needs doctors have when it comes to running their business and their personal finances," said Charles Hapcook, DDS, President and CEO of EDIC. "We developed 'The Colleagues' Choice Program' to help dental office owners and partners manage their insurance needs with one simple but comprehensive package that bundles insurance coverage."
Combining the insurance plans allows EDIC to discount costs and offer doctors the best coverage at the most efficient prices. Affiliates of the program include trusted insurance providers like The Hartford, and they offer risk management education, claims management, legal expenses and much more – covering both state-mandated insurance, as well as enhanced benefits. Discounts are also available for new dentists.
In addition, insurance professionals from EDIA suggest and can help dental office owners secure additional coverage such as practice interruption insurance, business overhead protection, office health insurance group benefits and retirement plans.
About Eastern Dentists Insurance Company
Founded in 1992 by the Dental Society of Massachusetts, as a "by dentists, for dentists®" company, Eastern Dentists Insurance Company (EDIC) has grown to thousands of members in Massachusetts, Rhode Island, Connecticut, New Hampshire, Vermont, Maine, New Jersey, New York and Pennsylvania. The company was expressly formed to control the rising costs of dental malpractice insurance and to allow our colleagues to control our own destinies. For more detail please visit,
www.edic.com
.
Email Eastern Dentists Insurance Company