Beyond Breakeven Facilitates Small Business Start-Ups, Acquisitions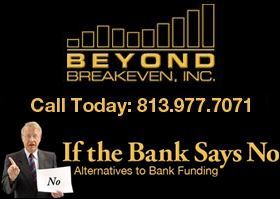 Tampa, Fla. – For small business entrepreneurs seeking to start or acquire a business in one of the toughest financial climates in history, it is essential to have an advisor that can provide expert help in targeting the right business to buy or finding small business financing to buy or start a business.
Beyond Breakeven provides services to small business entrepreneurs who can't find them anywhere else, helping buyers get valuations on businesses they may want to purchase, to ensure they are getting a good deal. Beyond Breakeven also helps facilitate deals between buyers and sellers for financing business acquisitions. In addition, the company can help entrepreneurs find business financing from hundreds of non-bank lenders to provide needed start-up capital.
Purchasing a business is very different from buying a home. Cooperation between buyers and sellers is essential to finding financing from banks or other lenders for the transaction. Buyers are often expected by lenders to finance part of the sale, making it important to create a deal with which both buyers and sellers can be happy. Beyond Breakeven can help with this process and provide support in finding small business financing from a variety of sources.
The 2013 Tampa Awards recognized Beyond Breakeven, Inc. for the excellent services it provides, giving the company an award in its Business Consulting classification. The Tampa Awards recognize businesses in the greater Tampa area that are among the top companies in their field.
Beyond Breakeven Inc.'s recent Tampa Award, and its continued success in helping small business entrepreneurs find the right opportunities and the right financing, make it the ideal consultant to help them make the most of a new business opportunity.
For additional information about Beyond Breakeven Inc., check out the organization's website at
www.ifthebanksaysno.com
. The company can be reached by phone at 813-977-7071.
About Beyond Breakeven, Inc.
Beyond Breakeven, Inc. is a Florida-based business consultant that assists entrepreneurs in developing business plans, finding financing and optimizing their operations. Their firm can provide more than 50 tools and programs to help optimize your business, and more than 400 sources of funding for entrepreneurs seeking capital.