Bluefish Sign Heffer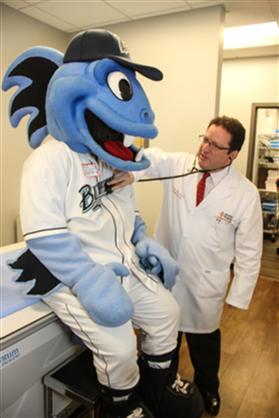 The Bridgeport Bluefish and Dr. Steven Heffer have come to terms on an agreement that makes the doctor one of the most valuable players for the team.
Dr. Heffer, the Chief Medical Director of Doctors Express Bridgeport Urgent Care Center, has been named the Official General Practitioner of the Bridgeport Bluefish Baseball Team.
"It was an offer I couldn't refuse," Dr. Heffer, said. "I've been a baseball fan all of my life and this was a chance for me to be a part of the team. I'm honored to be a member of the Bluefish organization."
Dr. Heffer brings several years of general medical practice and veteran emergency room experience to his role with the Bluefish. A dedicated local physician, Dr. Heffer recently spearheaded the effort to bring one the nation's most sophisticated urgent care centers to Bridgeport. The state-of-the-art Doctors Express Bridgeport Urgent Care Center is now open at 161 Boston Avenue.
"We're very appreciative to have Dr. Heffer as our official general physician," Ken Shepard, General Manager of the Bluefish, said. "We've put together a very competitive and dynamic team this year and that includes Doc Heffer, who can help make sure the Bluefish have a very healthy season."
The Bluefish are set for their 2014 Season Home Opener at The Ballpark at Harbor Yard in Bridgeport on Wednesday, April 30.
About The Bridgeport Bluefish:
The Bridgeport Bluefish were founded in 1998. The team played its first game on May 21, 1998. As members of the Liberty Division of the Atlantic League of Professional Baseball, the Bluefish were the 1999 League Champions. The team is owned by Frank Boulton and managed by former Major Leaguer, Willie Upshaw. The team plays its home games at The Ballpark at Harbor Yard, located at 500 Main Street in Bridgeport, Connecticut. Season tickets, group outings and ticket packages are available online at
www.BridgeportBluefish.com
or by calling 203-210-BLUE. Fans are encouraged to interact with the Bluefish on its social media channels:
Facebook
,
Twitter
and
YouTube
.
About AFC/ Doctors Express Urgent Care:
AFC/Doctors Express provides state-of-the-art treatment for acute illness, trauma (including minor surgical procedures) and has on-site laboratory and digital x-ray service as well as medication dispensing. Pre-employment physicals, drug screening and treatment of work related injuries are also available to local employers. Doctors Express offers on-site labs, x-rays, prescriptions, and Board certified physicians on staff every day offering all the tools needed to provide top-notch service to the community.
Doctors Express Bridgeport is one in a group of more than 140 Doctors Express locations in 26 states across the country that treat more than 1 million patients annually.
Doctors Express Bridgeport is open 7 days a week (Monday – Friday from 8am-8pm and 8am-5pm on weekends) and no appointments are necessary. Doctors Express accepts most health insurance plans, including state and federal health programs. There are special rates for those who choose to pay by credit card or cash and affordable visits for the uninsured and underinsured. Doctors Express Bridgeport has a Spanish speaking staff member on duty at all times and the website has translation capabilities to the top 12 languages spoken in CT. including Spanish, Portuguese, Russian, Polish, German, Italian, French, Vietnamese and French.
For more information, please visit the company
website
and to interact with the company, join its social media presence on
Facebook
,
Twitter
and
YouTube
. Video footage about Doctors Express Bridgeport is available on
YouTube
. To contact Doctors Express, patients can simply walk-in to the facility at 161 Boston Avenue; call 203.333.4400; or e-mail
bridgeportteam@doctorsexpress.com
.
Email Doctors Express Bridgeport