Pittsburgh Technical Institute Publishes Recipes from Culinary Academy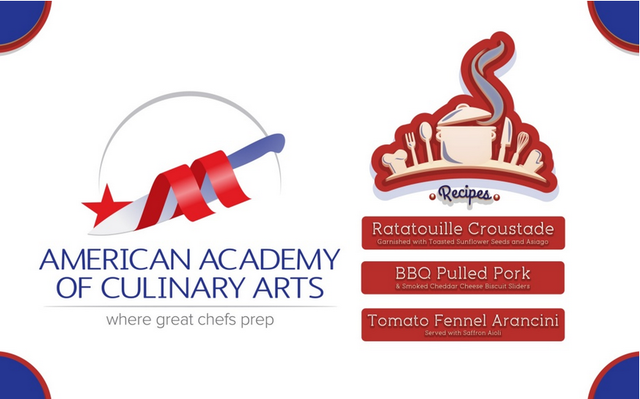 March 28, 2014 - Pittsburgh Technical Institute (PTI) has created a slide show to showcase a few of the recipes its students prepared for a recent event they catered. The students of PTI's American Academy of Culinary Arts (AACA) are trained in professional chef skills, different types of cuisine, and a range of recipes representing classical, intercontinental and American dishes throughout their courses.
The purpose of the slide show is to give those considering a career in the culinary arts the chance to see some examples of what they could learn in the kitchens and classrooms at the AACA. The three recipes showcased are:
Ratatouille Croustade: A sampling of ratatouille filling on a toasted baguette, topped with toasted sunflower seeds and asiago cheese.
BBQ Pulled Pork: Biscuit sliders with smoked cheddar and tangy BBQ pulled pork.
Tomato Fennel Arancini: Fried balls of tomato fennel risotto topped with chives and saffron aioli.
These dishes exemplify some of the cooking techniques culinary arts students learn and practice in their programs, and they also serve as a few sample dishes the students learn for different occasions. Fortunately, these particular recipes are simple enough for the casual cook to get excited about and test out as appetizers at his or her next party.
The American Academy of Culinary Arts in Pittsburgh offers two distinct chef training programs: the AACA Certificate in Culinary Arts (15 months) and the Associate in Culinary Arts (21 months). Students in both programs are taught knife skills, menu planning, international cuisine, baking, and other cooking techniques. In the Associate in Culinary Arts program, students also learn restaurant management skills and can take advantage of other career development courses throughout the program.
To find out what the AACA is cooking up and to learn how to make these recipes on your own, see the full slide show:
http://www.pti.edu/aaca/campus-life/aaca-blog/slide-show-recipes-from-the-american-academy-of-culinary-arts/
ABOUT PITTSBURGH TECHNICAL INSTITUTE
Pittsburgh Technical Institute (PTI) is a two-year career college with a 180-acre campus in North Fayette, west of Pittsburgh, PA, that has delivered career-focused education since 1946. PTI offers associate in science degree and certificate programs in areas such as Business, Criminal Justice, Design, Hospitality and Culinary Arts, Healthcare, Nursing, Information Technology, Trades Technology, and Energy and Electronics Technology. Experienced faculty provide students with practical skills for a number of in-demand fields including Architectural CAD and Mechanical CAD, HVAC technology, smart building technology, computer networking, computer programming, restaurant management, hotel and casino management, accounting, travel and tourism, marketing, management and a variety of allied health care programs. Classes are offered on campus with day and evening options, through PTI Online, and through PTI's American Academy of Culinary Arts (AACA).
PTI is accredited by the Middle States Commission on Higher Education and designated a military friendly school. For more information about how you can apply your experiential learning skills to a hands-on, career-focused education, contact PTI by calling 1-800-784-9675 or visit
http://www.pti.edu/
Email Pittsburgh Technical Institute/American Academy of Culinary Arts