Peacock Data offers bonus fuzzy logic in April special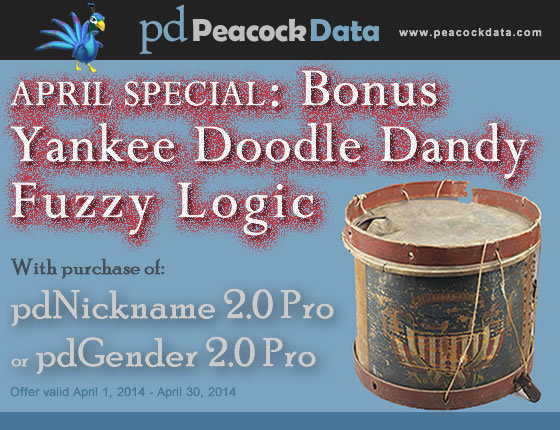 April 1, 2014 - Peacock Data is promoting the new
fuzzy logic technology
in their
pdNickname 2.0 Pro
and
pdGender 2.0 Pro
software packages by offering free bonus fuzzy logic data to all purchasers during April 2014.
The April special provides
pdNickname Pro purchasers with more than two million extra fuzzy logic records
(on top of 2.6 million already in the base Pro edition), and
pdGender Pro purchasers receive more than 77,000 bonus fuzzy logic records
(on top of 81,000 already in the base Pro edition).
Those already owning pdNickname 2.0 or pdGender 2.0 can purchase the additional fuzzy logic data via
add-ons
available through the company's website.
pdNickname
($495 Pro list) is an advanced name and nickname database.
pdGender
($395 Pro list) is a gender coding file built on the same set of names. Both packages, for the first time, provide fuzzy logic technology compatibility.
"There are two kinds of fuzzy logic incorporated in these products," said Barbara Adair, a company spokesperson. "One is designed to pick up common typographical errors and the other works with stylized spellings and letters not on a regular English keyboard."
Barbara pointed out, "The most complex fuzzy logic involves predicting likely misspellings or alterations. We look at numerous factors that may occur in the spelling of a name. Common examples are frequently reversed digraphs (a pair of letters used to make one phoneme or distinct sound), double letters that are often typed as single letters, non-common characters, the number of letters in a name, where elements occur in a name, and hundreds of other possible factors."
An example of fuzzy logic is "Sophia" which has the digraph "ph" in the center. One of the most common typos is "Sohpia" with the digraph reversed as "hp". The new databases pick up both spellings. Another example is "Rocco" typed as "Roco" with one "c".
Other fuzzy logic algorithm examples concern stylized spellings and special letters such as the umlaut in the middle of "Björk". In this case the products will find the name with the umlaut as well as typed "Bjork" without the special character.
The April bonus fuzzy logic special expires April 30, 2014.
Product information
pdNickname 2.0
: Name and Nickname Database
Informationů
pdGender 2.0
: Name and Gender Coding Database
Informationů
Fuzzy Logic Add-ons
Informationů
About Peacock Data
Peacock Data are the makers of database products used by business, organizations, churches, schools, researchers, and government.
Their flagship offerings include:
pdNickname
, a highly-regarded name and nickname product recently upgraded to version 2.0;
pdGender
, a gender coding database also recently upgraded to version 2.0;
pdGeoTIGER
, a precision ZIP+4 and address range GeoCoding package;
pdCensus2010
, with demographic data drawn from 2010 American census tabulations; and
pdACS2013
, unveiled last May, another demographics offering providing American Community Survey (ACS) estimates gathered from the U.S. Census Bureau and summarized at over 100 stratification levels.
Peacock Data is a California-based company in business since 2003.
2014 Calendar
PRODUCT RELEASE SCHEDULE:
April
: pdGeoTIGER 2.0, pdCensus2010 1.0.
May
: pdLatino 1.0, pdACS2014 1.0.
June
: pdZIP 2.0, pdZIP+4 1.0.
July
: pdCensus2000 2.0.
August
: pdSurname 1.0.
September
: pdProperCase 1.0.
October
: pdCountry 2.0.
November
: pdGeoTIGER 2.1, pdCensus2010 1.1.
December
: pdEconomics2015 1.0.