Rotation Industries Moves to New Location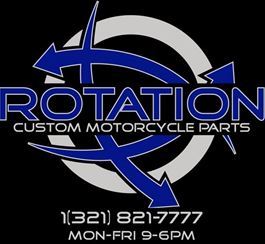 Merritt Island, FL – Rotation Industries, creator of custom motorcycle wheels, is moving to a new location in Merritt Island, FL. This move offers the company and its customers a larger space in which to work and to maintain a larger inventory of in-stock parts.
Rotation Industries is a newer company that is already renowned for their custom motorcycle rims. There are a number of choices in chrome, black, aluminum and combinations. The wheels are available for many top name bikes, such as Harley, Honda and Suzuki. Along with these, Rotation Industries also sells aftermarket motorcycles for most brands. As the company established itself and grew, the move to Merritt Island became necessary.
This new location offers Rotation Industries more square footage to display and store
Xtreme Machine Wheels
. You can now enjoy the new wheel displays with the amenity of air conditioning, so nobody breaks a sweat. The larger in-stock inventory also benefits customers nationally who can expect to receive orders faster. Another exciting feature is a custom tire machine designed to mount custom motorcycle wheels.
You can check out the new shop anytime, Monday to Friday, from 9AM to 6PM at: 150 Venetian Way, Ste. 103, Merritt Island, FL 32953. This is approximately 16 miles north of their old location on Anderson Way in Melbourne. Both Route 1 and 3 will place you almost directly at their doorstep.
You can find more information directly at
http://www.rotation.mx/
or contact the company via phone or email. If you want a product not listed on the website, Rotation Industries can find it for you. The company can find any part that fits on a motorcycle including grips, pegs, handlebars and more.
About Rotation Industries
Rotation Industries offers a number of custom and brand name motorcycle parts. They have the largest stock of custom motorcycle wheels in the nation, with many ready to ship. The company values their customers and focuses on attaining one hundred percent satisfaction.
Email Rotation Industries