VTG Rail Adds Over 300 Jumbo Covered Hoppers for Use in Variety of Commodities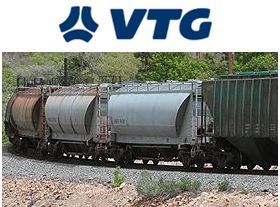 The covered hopper is the perfect way to transport dry loads for many different industries. VTG Rail is a large provider of these railcars and continues to have an extensive influence in the railroad industry. The addition of 300 jumbo covered hoppers allows VTG to continue their large presence in the shipping industry, allowing shippers to ship anything from grain to clay, and anything in between, without the worry of poor weather affecting the bulk shipment from arriving in optimal condition.
There are various needs for covered railroad hopper cars and they are available with a varying number of bays to accommodate many different types of shipments. The type of hopper that is provided depends on the type of material being shipped, in order to ensure that all axle load limits are adhered to during transport of the products.
VTG Rail is a leading provider of leased railcars including covered hoppers, pressure differential hoppers, tank cars and bulkhead flat cars. With more than 100 combined years of experience in the purchase, sale and leasing of railcars, VTG Rail has been a leader in the industry for many years. VTG offers a variety of options for leasing their railcars, making it affordable for every business to get the quality transportation that they desire.
Any business that would like more information about the new jumbo covered hoppers or any other rail car that VTG Rail offers for lease can visit them online at
www.vtgrail.com
.
About VTG Rail
VTG Rail has been in operation for over 25 years. Their dedication to provide quality railcar leasing has always met and exceeded customer expectations. They implement the highest quality processes to ensure that all regulations are followed and that customers are able to achieve their transportation goals with ease. VTG Rail operates throughout the United States, as well as Mexico and Canada.