Allied Insurance Brokers Publishes a Slide Show on Crane Insurance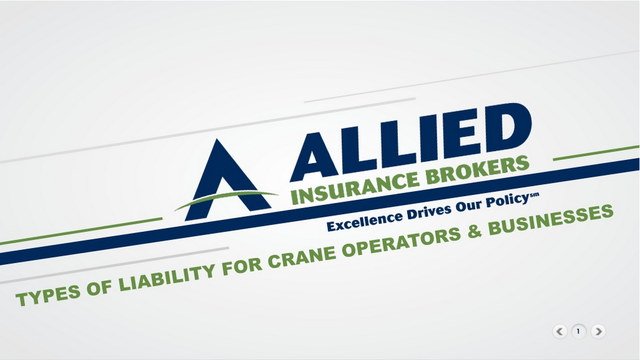 Allied Insurance Brokers, an insurance provider for niche industries such as cranes, rental equipment , scaffold, wood products, and health and human services; has created a slide show to help businesses get a better idea of what type of insurances they need and why. Companies that work within the construction industry are responsible for many different aspects of their work, including worker safety, public safety, equipment maintenance, and property damage. Construction can be dangerous, and even when following the proper protocols, accidents can still happen. Having the right types of insurance is necessary to protect construction businesses from crippling liability.
The slide show lists different types of insurance typically required or recommended for crane businesses and riggers. Crane liability insurance is designed to protect businesses from losing income in the event of a liability suit. Because of the large-scale nature of construction projects, lawsuits within this industry have the potential to put a company out of business.
It's not always clear what types of insurance a business should have. The slide show lays out the most useful, and often overlooked, types:
General Liability: A broad range of liability coverage to protect crane businesses from premises, operations, completed project, property damage, bodily injury, and advertising liability.
Property & Equipment: Protection for a crane business' own property and equipment in the event of fire, theft, or other type of damage. This also insures other people's property while it is in the business' possession.
Auto Liability & Physical Damage: Covers any injuries or damages an employee causes to people or property.
Workers' Compensation: Provides for work-related injuries and other workers' compensation laws.
Umbrella Liability: Extends the amount of coverage provided by general liability insurance in the event that a fine or settlement is greater than the amount provided for under general liability.
To find out precisely what type of insurance a crane business should have, it's best to arrange a risk management assessment to identify all of a business' needs.
To learn more about types of crane insurance, see the full slide show:
http://www.alliedinsbrokers.com/slide-show-types-liability-crane-operators-businesses
Allied Insurance Brokers provides insurance and risk management solutions for crane, construction, and scaffold businesses as well as rental equipment, party goods, wood products, and crane operators. Allied works with businesses to reduce their liability risk through a variety of insurance products and risk management consulting. For more information about insurance for crane or other businesses, contact Allied Insurance Brokers:
http://www.alliedinsbrokers.com/
Email Allied Insurance Brokers