Hudson Valley Chocolatier Holding Easter "Pin it to Win it" Contest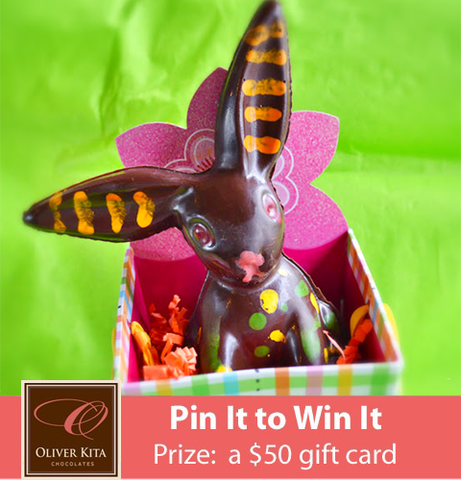 Oliver Kita Chocolates is holding an Easter candy "Pin it to Win it Contest," where one lucky winner will receive a $50 gift card to use online or at his Hudson Valley chocolate shop in Rhinebeck, NY. The contest will run until midnight on Easter (April 20, 2014).
To participate, Pinners must follow Oliver Kita Chocolates on Pinterest (
http://www.pinterest.com/OliverKita/
) to enter the
Easter "Pin It to Win It" Contest
. Then Pinterest users are asked to repin one of the eight Easter chocolate images to be entered to win the $50 gift card. Users may pin all eight of the images for a maximum total of eight entries. A winner will be selected at random and announced on Monday, April 21, 2014 on Oliver Kita's Pinterest page and other social media accounts.
A graduate of the Culinary Institute of America, also located in New York's Historic Hudson Valley, which is also home to his chocolate studio (located in the quaint village of Rhinebeck), Oliver has received diplomas from L'Ecole Lontre, Paris; L'Ecole du Grand Chocolat Valrhona, Tain L'hermitage; and Academy du Chocolate Barry Callebaut of Montreal. Formerly a pastry chef at the legendary Russian tea room and a scholarship award-winner for the Beringer Vineyard School for American Chefs in the Napa Valley, Oliver now shares his passion for cooking and baking with chocolate aficionados from all over the world with organic chocolate bars, vegan chocolate bars, fair trade chocolates, corporate chocolate gifts, chocolate lectures, and a beautiful chocolate shop for all to enjoy.
Oliver Kita's work has been recognized in publications such as Bon Appetit, Denver Post, Chronogram, New York Times, Yoga Journal, among others, and he has been highlighted on NBC's Today Show for four straight years.
Oliver Kita's Fine Catering and Oliver Kita Chocolates, Oliver's Hudson Valley Chocolate Shop, is located at 18 West Market Street, in Rhinebeck, offering a collection of delectable chocolates and confections (845-876-2665). Oliver Kita is the past owner of Heaven in Woodstock, and has been the proprietor of Oliver Kita Fine Catering since 1996.
For more information on his commitment to bringing fair trade and organic chocolates to the masses, or to see a selection of corporate chocolate gifts, vegan chocolates, organic chocolates, and the like, please visit oliverkita.com.