Dog Ear Publishing Celebrates 10 Years of Commitment to Authors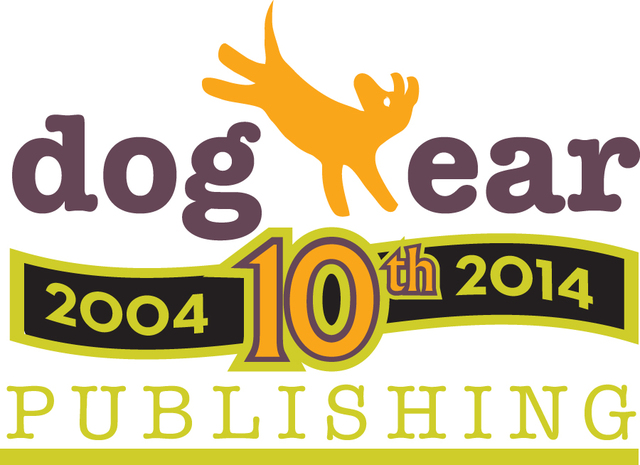 (April 8, 2014) INDIANAPOLIS – Dog Ear Publishing has come a long way since its website first went live in October 2004 and its partners charted progress with an erase board. The self-publishing company has grown from its original trio of partners to 12 full-time employees and a stable of freelance editors and designers – and authors.
"I remember writing 'Just get the first book' on the erase board," said co-founder Miles Nelson, who shares partner duties with Ray Robinson and Alan Harris. "That really was the goal – can we establish ourselves in this industry and survive? It was interesting the calls we would receive: 'What is self-publishing?' Now it's 'Why Dog Ear?' "
Harris and Robinson, childhood friends in Ohio, worked for the same company in Indianapolis that built books for traditional publishers. Nelson had done business with Robinson but only knew him slightly. When that company folded, Robinson decided to continue to offer production services to big publishers but also wanted to serve people who wanted to publish their own books. At the time, not many companies offered that service.
"We were looking at the existing competitors and realized there was a real opportunity to enter the market as the high-touch, high-end player," Nelson said, noting that Dog Ear wanted to opt for quality vs. quantity. "Our approach was and always has been to offer really high-quality interior layouts and cover designs. We take a great deal of pride in building a beautiful-looking book."
The company did get its first book: "Healthy Syrian and Lebanese Cooking" by Helen Corey, which still sells on Amazon.com. "She was referred by a friend. My partners and I drove to Terre Haute, an hour a way, to meet with her," Nelson said. "She had photographs that needed to be scanned. She would feed us while we were going through all of this stuff scanning and organizing things."
That first book soon led to others. "We've had all kinds of authors along the way, people who have all kinds of creative ideas whether it's children's books or how-to books. One thing they all share is there is definitely a passion" to share their work, he said. "They've expended a lot time and energy. To them, this is their big creative effort, their baby, and we have to take great care of their baby."
Nelson attributes Dog Ear's success to its sound company practices and its commitment to quality. "A lot of it has to do with our business model, and that is to provide not just publishing services but to provide solutions to authors that may enable them to create a great-looking book that they can be proud of and make it available for worldwide distribution. Our books just look a lot better."
Nelson said he and his partners are thrilled they can enjoy the company's 10-year anniversary. "We're proud of the system that we've created, the procedure. It's not just that the author calls, we take money, the author uploads the material and we publish the book. There's a great deal of back and forth. … We've seen a lot of companies enter the market, and the next year they're gone. It's not easy to manage this."
Along with creating beautiful books for its authors, Dog Ear has exhibited at trade shows and participated in author conferences. As part of its efforts to give back, the company has planted more than 50,000 trees in partnership with Trees for the Future, been a sponsor of Court Appointed Special Advocates (Nelson has been on the board since 2006) and contributed to Reading is Fundamental, an organization that promotes literacy.
Specific anniversary events include employee and author appreciation events, potential new prizes for authors and recognizing authors from Dog Ear's earliest days.
Nelson noted that the company truly cares about both its employees and authors and shows that with personalized service. "Our interest is in getting the job done right, following the requests and instruction from the author," he said. "It's kind of a love affair with highs and lows. The best relationship is trust through communication. We rely on the author to give us feedback, so it really is a relationship based on give and take."
Although owning a company can come with pressure, Nelson and the other partners are proud of what they've accomplished. "You want to make sure that everybody who decides to publish with Dog Ear Publishing receives what they want, which is a beautiful book, a book they can be proud of.
"Owning Dog Ear has been fun, and it has been a lot of work — more than we thought it would be initially. Even today, 10 years later, we're still learning how to manage all of these different types of personalities and authors. (But) we've been able to sustain a great deal of passion. We care about our employees, our authors and as partners we care about each other."
For additional information, please visit
www.dogearpublishing.net
About Dog Ear Publishing, LLC
Dog Ear Publishing offers completely customized self-publishing services for independent authors. We provide cost-effective, fast, and highly profitable services to publish and distribute independently published books. Our book publishing and distribution services reach worldwide. Dog Ear authors retain all rights and complete creative control throughout the entire self-publishing process. Self-publishing services are available globally at
www.dogearpublishing.net
and from our offices in Indianapolis.
Dog Ear Publishing – self-publishing that actually makes sense.