Luxury Tuscan-style Hotel "Hotel Granduca Austin" Begins Construction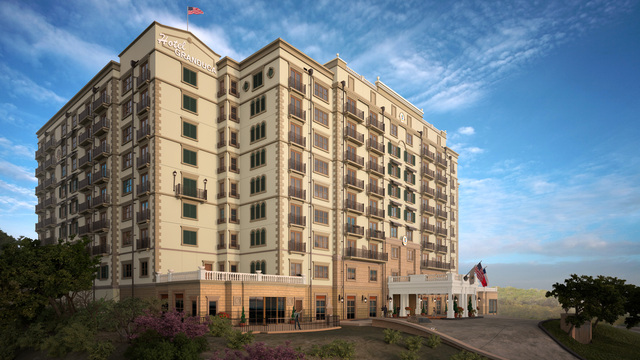 Construction will begin this week on a new luxury hotel – the Hotel Granduca Austin. A joint venture between Houston-based Interfin Companies LP and Riverside Resources of Austin, the hotel will sit atop a hillside at the northwest corner of Bee Cave Rd and Loop 360, adjacent to Dimensional Fund Advisors. Riverside Resources is also developing a seven story office complex and adjacent parking garage in conjunction with the 194-room hotel which is scheduled for completion in late 2015.
The hotel is based on innovative Houston developer Giorgio Borlenghi's vision of old-world Italian sophistication and modern luxury similar in style to the original Hotel Granduca in Houston, Texas. The hotel will echo the classical grace of a private Tuscan villa with common areas and rooms filled with elegant touches and a warm ambiance making guests feel at home from the minute they arrive.
"With Hotel Granduca Austin I want to bring a unique, exclusive, residential style to the Austin hospitality market, " said Giorgio Borlenghi, President of Interfin. "And, of course, it has to be Italian."
"We selected this location for the hotel just a few minutes from downtown, in the gorgeous, highly visible and accessible Westlake area, providing a unique oasis of sophistication and elegance, unlike any Austin hotel" said Alex Borlenghi, Vice President of Development for Interfin. "This will be a perfect destination for business and social guests, as well as corporate events and weddings."
"Austin is the natural location for Granduca Hotels to continue its expansion in Texas. The climate and atmosphere in Austin lends itself well to the Italian Villa experience" said Borlenghi, a University of Texas graduate who has been searching for this perfect venue. "We finally found the ideal location on a 38-acre site with spectacular views. The property will feature the same elegant ambiance and service for which our existing hotel is so famous."
The Hotel Granduca in Houston is a member of "The Leading Hotels of the World," a designation that will be sought for the Hotel Granduca Austin as well.
A highlight of the new property will be its stunning ballroom seating up to 220 guests making the hotel an ideal location for weddings and social events. Additionally, numerous private conference rooms with state-of-the-art audio/visual equipment make the hotel the perfect spot for business meetings and corporate retreats.
Hotel Granduca Austin will also feature a library, billiards and game room, massage rooms, fitness center, pool, and lush gardens while the hotel's in-house restaurant will feature northern Italian cuisine similar to the Houston Hotel Granduca's award winning Ristorante Cavour – recently named one of the best Italian restaurants in Houston.
Borlenghi will also incorporate sustainability concepts throughout the facility ranging from the use of LEED concepts, to the extensive reuse of recycled water, and the use of hybrid vehicles.
Gromatzky, Dupree & Associates of Dallas is the architect for the 9-story Austin hotel. Ermy Borlenghi Bonfield of 3-E Designs, Inc of Houston, Giorgio's sister, is handling interior design of the property. Her concept incorporates a strong Italian influence while honoring her family heritage and history similar in style to the Hotel Granduca's Houston location.
"Our Tuscan-inspired hotel will soon be taking shape in Austin," said Giorgio Borlenghi, "Like our Houston location, it will be a private sanctuary for everyone from elite clientele and celebrities to business leaders whether they are visiting the restaurant and bar, utilizing our conference rooms and event spaces or enjoying a morning cappuccino overlooking the area vistas."
"We are very pleased and excited to have such a high quality boutique hotel as part of our overall development. The hotel will greatly complement our planned office complex. Together they create an environment that is unlike anywhere else in Austin," said John Needham a founding partner of Riverside Resources.
With a 20+ year operating history, Riverside Resources is an Austin investment and development company with a history of delivering unique mid to high-rise residential and office projects, including the acclaimed Whitley, a downtown residential high-rise.
Founded in 1978 by Italian-born Giorgio Borlenghi, Interfin is a Houston based, diversified real estate company specializing in the development, construction and management of landmark residential and commercial real estate projects. Interfin has gained an international reputation for combining elegant architecture with construction of the highest quality to provide working and living developments that are unparalleled. Interfin is the developer of the Four-Leaf Towers in the Galleria and Post Oak area, as well as Four Oaks Place, and Uptown Park among others.