Austin Smile Creations' Dr. Tor Gotun Has Brought New Dental Technologies to Austin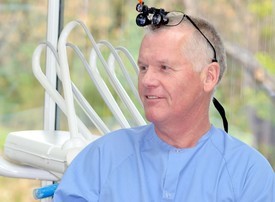 AUSTIN, Texas – At Austin Smile Creations, family dentist,
Tor Gotun, DDS, MAGD
, has invested in continued education and cutting-edge technology for the benefit of his patients, serving as a local innovator in the dental field. He has recently added two new technologies to his dental practice: a THOR laser for low-level laser therapy for the treatment of temporomandibular joint (TMJ) disorders and platelet-rich plasma treatments for dental surgeries and implants.
A
temporomandibular joint disorder
(TMJ) is a condition that affects the jaw. Symptoms include radiating jaw pain, difficulty opening and closing the mouth and clicking or popping sounds with movement. Low-level laser therapy (LLLT) has long been a popular treatment option used by European dentists however Dr. Gotun is the first dental professional to offer the treatment in Austin.
LLLT includes exposing painful areas of the jaw to the low level laser. The laser has been shown to stimulate tissue repair while minimizing swelling and inflammation. This can reduce pain and discomfort associated with TMJ.
LLLT is also used to speed up the healing process in post-surgical patients by stimulating the tissue in addition to its ability to anesthetize the area prior to a procedure without the need for injections.
"I am a big proponent of therapies that minimize patients' pain," says Dr. Gotun. "I feel it would be a dis-service to my patients not to."
Austin dentist Dr. Gotun has also begun using is platelet-rich plasma (PRP) therapy. This treatment involves using growth factors taken from a patient's own blood to enhance wound healing and tissue growth. To perform the therapy, blood is taken from a patient and a centrifuge is used to separate a patient's blood into parts. The platelets are then mixed with a bone graft or directly applied to the surgical site to encourage quicker healing. PRP therapy has been shown to enhance not only skin re-growth after a procedure, but also bone regeneration.
"When I began my dental career, I knew I would never stop learning or seeking opportunities to help others." Dr. Gotun says.
About Dr. Tor Gotun: In 2012, the Academy of General Dentistry recognized Dr. Gotun with the "Lifelong Learning and Service Recognition" award. He is the only dentist in Austin to have received this title. In the 60 years since the award's creation, less than 200 dentists have been chosen for this honor. Award recipients must exhibit a commitment to personal education, community and volunteer service and service to organized dentistry.
For more information on low level laser therapy, platelet-rich plasma treatments or Dr. Gotun's Austin dental practice, please check out his website at
AustinSmileCreations.com
.
Email Austin Smile Creations