GreenRope's GMAIL Gadget is Now Live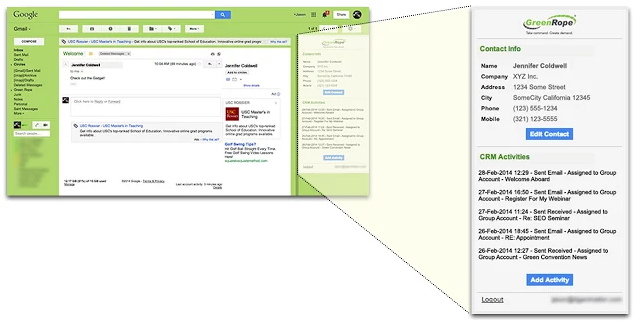 San Diego, CA – April 11, 2014 –
GreenRope, the industry's leading CRM and Marketing Automation software, recently launched the GreenRope Gmail Gadget. Their latest integration allows GreenRope users who use Gmail to access contact data and CRM information in Gmail.
"Imagine how productive you can be when you don't need to consistently move between platforms? This is what our Gmail Gadget accomplishes," says Director of Marketing, Alessandra. "We make it even easier for our users to view contact data, add CRM activities, view relationships, and more right from within their Gmail Inbox."
The new gadget is a productivity tool, and simplifies the way Gmail users can work within their CRM and view contact information. Each email you pull up in Gmail pulls that contact's information, as well as any CRM activities, so that you know exactly what is going on with each client without having to view the contact in GreenRope.
Gmail Gadget Features:
Pulls up all CRM Activities with each contact
Add new CRM activities and engagements
Add a new contact to your GreenRope CRM from within Gmail
View contact information and details
Edit your contact's information
GreenRope constantly launches new integrations and productivity tools that save users both time and money. If you are a Gmail-GreenRope user, this is the gadget for you.
Download the Gmail Gadget in the Chrome Apps Store
Try GreenRope's 30-day trial at
www.greenrope.com.
About GreenRope
Lars Helgeson, who saw the need to make running a small to mid-sized business easier and more efficient, founded GreenRope. GreenRope's mission is to resolve the challenges of managing business operations by providing cloud-based integrated software that is effective, affordable, and user friendly. GreenRope streamlines key operations, including e-commerce and accounting, CRM, email marketing, mobile marketing, calendaring, websites, social media and more, into one easy-to-use platform. By using GreenRope, companies can reduce their marketing and CRM software expenses by an estimated 80%. GreenRope's affordable pricing plans start as low as $99/month. Visit
www.greenrope.com
for more information.