filmpossible 2014 continues to bring visibility to disability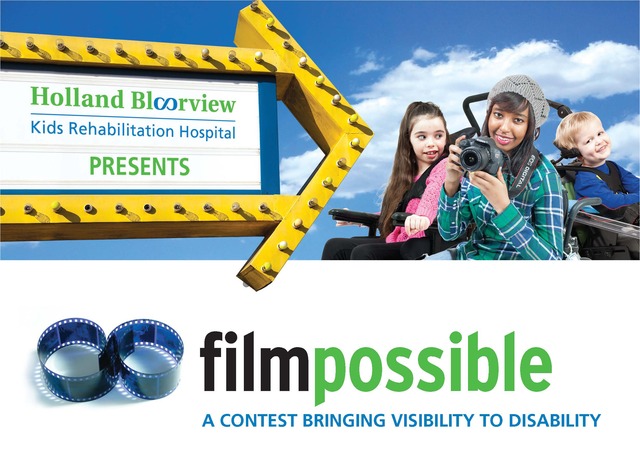 April 12, 2014 – Holland Bloorview Kids Rehabilitation Hospital, Canada's largest children's rehabilitation hospital is pleased to launch
filmpossible 2014
. For the fourth year, the online video contest offers people the opportunity to raise awareness about childhood disability to their families, peers and the world at large.
"Since starting this contest four years ago, we've been absolutely astounded by the incredible videos that our entrants have submitted," Sheila Jarvis, President and CEO, Holland Bloorview Kids Rehabilitation Hospital. "We've seen incredible works that have challenged us all to see disability differently. We look forward to this year's entries."
Getting involved is simple. Entrants can submit a two minute video that shows how kids with disabilities experience life, focusing on both the ordinary, and sometimes extraordinary. Entrants can be bold, tender and hilarious.
Submissions will be accepted from April 9, 2014 until May 28, 2014.
Winners are determined by public voting as well as a panel of Holland Bloorview's Family Leaders.
Grand prizes include $3000 for 1st place, $2000 for 2nd place and $1000 for 3rd place video entries.
People everywhere can view and vote for their favourite entries online at
www.filmpossible.ca
.
Cisco
has generously donated all of our cash prizes.
What lens do you view childhood disability through? Make the world notice and win great prizes.
Filmpossible would like to acknowledge our generous prize sponsors:
Cisco
and
Holland Bloorview Kids Rehabilitation Hospital Foundation
.
For more details on dates, rules and prizes, visit
www.filmpossible.ca
.
Holland Bloorview
Kids Rehabilitation Hospital is Canada's largest children's rehabilitation teaching hospital. For over a century, we've pioneered treatments, technologies, therapies and real-world programs that give children with disabilities the tools to participate fully in life. Visit
www.hollandbloorview.ca.
Maureen Campbell
mcampbell@hollandbloorview.ca
416-425-6220 x 3436
Email Holland Bloorview Kids Rehabilitation Hospital