Estrella Natural Toothpaste Comes in Bright New Packaging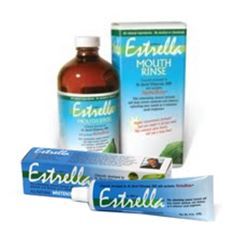 April 15, 2014 - Estrella natural toothpaste was developed by Dr. David Villarreal, DDS after years of research. He found that by combining some natural elements he could create a natural toothpaste that didn't contain the harmful chemicals found in traditional toothpaste. The HerbalBrite formula was the result.
The HerbalBrite formula works so well that you only need a very small amount on a soft toothbrush to keep your mouth bright and fresh. As part of a holistic dentistry approach, the goal is to maintain the natural chemical balance in the mouth in order to keep the mouth healthy and the smile bright.
Packaging is everything, so Estrella natural toothpaste now comes in a bright new package that clearly conveys its lean toward holistic dentistry. For those who seek to take a natural approach to their oral health, this new packaging is helpful as an identifier for a natural toothpaste.
Estrella natural toothpaste contains none of the harmful abrasives that are found in traditional toothpastes. Without these abrasives and chemicals, oral health can be restored and promoted with the natural formula found in this toothpaste. HerbalBrite helps prevent gum disease and gingivitis, and can help prevent the dry mouth that occurs when the chemical balance in the mouth is off.
The formula hasn't changed. Consumers can still expect a healthier mouth and a bright smile from this naturally whitening toothpaste. The new package with the leaf on it just makes it easier for consumers to find this tool for holistic dentistry as they browse the oral hygiene products available.
Estrella natural toothpaste still works best when used in conjunction with Estrella specially formulated mouthwash and a healthy diet, but using the toothpaste alone has been found to be a significant step toward better oral hygiene. Consumers who want to take a natural approach to their oral health can start looking for the blue and white package with the leaf on the front and enjoy the new look of Estrella natural toothpaste.
You can learn more about the holistic dentistry process by visiting their website
www.centersforhealing.net
.
About Centers for Healing
Centers for Healing offers a natural, whole body approach to oral health. Using holistic dentistry combined with education on oral health and the overall impact of oral health on the rest of the body, Centers for Healing helps clients move away from the chemicals and rely on natural methods for their general health.
Email Centers for Healing