Medcom Releases New Videos for Nursing Assistants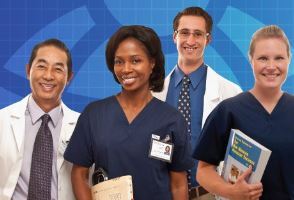 Cypress, CA – Medcom released four new educational videos as part of their nursing assistant series. One of their top sellers, these medical videos offer live-action demonstrations of needed basic skills.
Medcom is a leader in the healthcare education industry, with more than 50 years of experience. Their curriculum includes not only video, but print and online courses as well. Part of the company's success is due in part to the experts helping in the product development. Medcom works with professionals from the Mayo Clinic, John Hopkins Hospital, and Brigham and Women's Hospital, among others.
The new nursing assistant medical procedure video series includes:
Measuring Vital Signs (Program: CNA702): Learn to measure blood pressure, temperature, pulse and respiration rates, and assess pain levels.
Range of Motion (Program CNA710): Learn to perform range of motion skills for head, neck, spine, upper extremities, and lower extremities.
Techniques in Bathing: The Bed Bath (Program CNA714A): Learn to describe steps for a bed bath and identify safe water temperature.
Serving a Meal (Program CNA709): Learn to serve meals to independent eaters, identify assistive devices, serve a meal to a non-independent eater, describe techniques to avoid choking, and steps to encourage eating.
Each video can be
previewed
prior to purchase. These bring the collection to almost 40 educational nursing assistant videos available to help CNAs learn necessary skills. Individuals, or an instructor as part of his or her lesson plan, may use the series. It meets the California Department of Health Services State regulations and includes updated information on HIPAA and CDC hand hygiene guides.
Along with their nursing assistant program, Medcom offers others in dentistry, pediatrics and sales rep, among others. You can find information about any of these on
www.medcomrn.com
. The leader in healthcare educational material also offers a free CE program to those interested. If you have more questions, you can contact the company via telephone or email for quick responses.
About Medcom-Trainex:
Medcom-Trainex produces and distributes a variety of healthcare educational programs. As a leader in the industry, products range from print material, videos and distance learning courses. Medcom continues to offer the highest quality care in nursing video programs, which have received over 50 awards thus far.