RSI Publishes Infographic on Green Energy & HVACR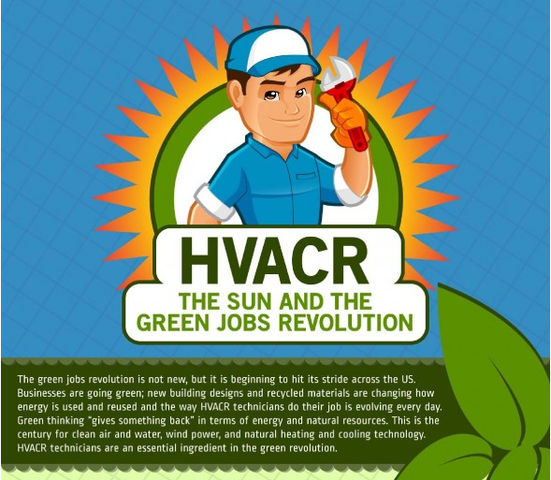 April 16, 2014 - The Refrigeration School (RSI), an Arizona HVACR career training school, published an infographic illustrating how HVACR technologies are already having major impacts on green energy usage and what the potential for growth in that area is. While many people may first think of solar panel installers as the career most directly linked with green energy, HVACR technicians also have great influence over both a home's energy savings and its sustainable options.
HVACR technologies are being integrated more and more with green technology, and technologies like solar panels and wind turbines are more often being routed into a home's power sources. With consumer preference for green energy products continuing to increase, it's clear that green energy is here to stay. HVACR technicians who are able to understand, install new systems, retrofit older systems, and troubleshoot green energy technologies will have an advantage in the field.
Businesses and homes across the country are going green. Major retailers across the country are implementing plans to reduce their carbon footprint, including Whole Foods, Walmart, Safeway, Home Depot, Walgreens, Costco, and IKEA. With the push for zero-emissions energy coming not only from homeowners but also from large commercial operations, green energy is gaining a lot of traction, and it's creating a lot of jobs for people in that sector. Last year
it was reported
that green energy jobs were growing 4 times faster than other careers.
The Refrigeration School offers many options for students who want to work in sustainable energy and contribute to the green revolution. At RSI, students in the Associate of Occupational Studies in Mechanical Maintenance Engineering program study solar and green energy courses as part of the curriculum. With this training, students can pursue careers as solar installation technicians, power plant technicians, solar systems troubleshooters, solar thermal repair technicians, and more.
For more insights into how the Green Revolution is impacting HVACR, see the full infographic:
http://www.refrigerationschool.com/about-career-services/articles/infographic-hvacr-the-sun-and-the-green-jobs-revolution/
The Refrigeration School is an HVAC technician school in Arizona with programs for HVACR, solar/pv installation, mechanical maintenance engineering, and refrigeration technologies. For more information about local career opportunities in HVACR contracting, contact an RSI Admissions Representative:
https://www.refrigerationschool.com/
.
Email The Refrigeration School