Tulsa Welding School Publishes White Paper on Finding Work in the Skilled Trades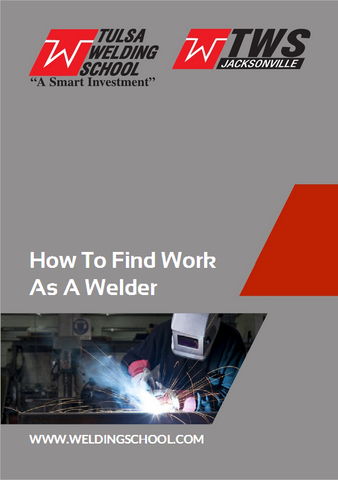 April 16, 2014 - Tulsa Welding School, a vocational training school with campuses in Tulsa, OK and Jacksonville, FL, has published a white paper outlining how to search for a job as a welder. Looking for jobs in the skilled trades isn't always the same as looking for jobs in other industries. Often, welding jobs are very localized without widespread online job advertising. Direct contact with the employer is critical, as are in-person interviews. These conditions have serious consequences for how to best proceed with job searches in this field. Additionally, welding employers are often looking for candidates who possess certain skills, to have worked with certain types of equipment, and even for candidates to have certain licenses or welder training certificates.
Welders searching for work should start by narrowing down the geographical location where they want to live. Then, instead of looking for what jobs are available, they should look for what companies they would like to work for. Many jobs are not advertised openly but are filled either by promoting internal talent or taking on referrals. Interviews don't always give employers enough insight into the competency or attitude of candidates, so employers rely on others to vouch for job candidates. This makes it critical to get in touch with the person who has the power to hire you, particularly through someone already working at the company or a solid contact of that person.
The job application itself is purely a tool to secure an interview, and it should be re-tailored to best suit every new interviewer. Resumes and cover letters should highlight skills, work experience, equipment familiarity, and any technical welder training (including certificates) candidates have had. Unless the employer specifies otherwise, these sections should be ahead of general education, awards, volunteer experience, interests, and other pieces of information candidates may want to include. If you can't meet with the person who has the power to hire you, then make sure to still visit the physical location of the office where you are applying and hand in your application to the shift manager.
Jobs in the skilled trades are in high demand, and job candidates shouldn't be discouraged if they don't meet with immediate job hunting success. For more tips about finding work as a welder, read the full white paper:
http://www.weldingschool.com/blog/how-to/white-paper-how-to-find-work-as-a-welder/
Tulsa Welding School (TWS) has campuses in Tulsa, Oklahoma and Jacksonville, Florida. Programs vary by campus. TWS Jacksonville offers training in Welding, Electro-Mechanical Technologies (HVAC/R) and shipfitting and Steel Fabrication.
Accredited School, ACCSC. TWS-Jacksonville is a branch campus of Tulsa Welding School, located at 2545 E. 11th St., Tulsa, OK 74104. Licensed by the Florida Commission for Independent Education, License No. 2331, and by the Mississippi Commission on Proprietary School and College Registration, License No. C-668. Accredited in Indiana by the SWIC (AC-0290). For more information about our graduation rates, the median debt of students who complete our programs, and other important information, please visit our website at:
http://www.weldingschool.com/student-resources/regulatory-information/