RSI Publishes Slide Show on Benefits of Hands-on Training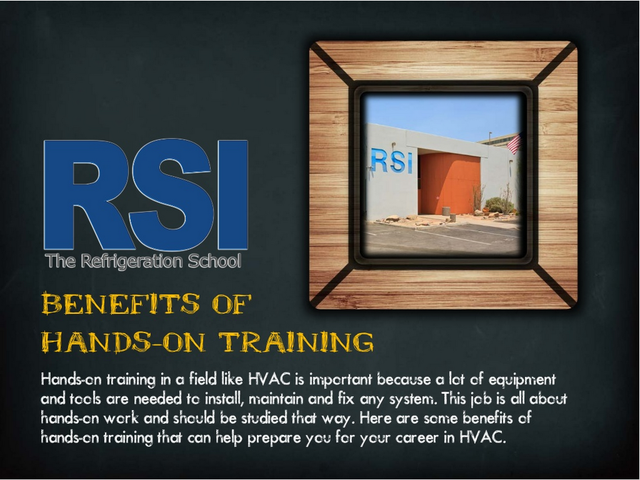 April 16, 2014 - The Refrigeration School (RSI) created a slide show illustrating the benefits of hands-on training for people pursuing careers in the skilled trades. Some young men and women seek out careers in the skilled trades specifically because they learn best when they're using their hands. Even people who excel at lecture-style classes can benefit from hands-on learning. As a school that focuses on hands-on vocational programs, this style of learning is a core piece of RSI's training method.
Students who learn from programs that utilize hands-on training retain more information, become more familiar with real tools and equipment, benefit from professional instruction, have increased motivation to learn, and are able to think more critically about the concepts and applications they're taught. Ultimately, students are able to demonstrate a high competency level performing actual tasks in their field.
These skills and experiences are highly applicable to the workforce. Having a hands-on education better prepares students for real-world challenges that they'll face while working in the field. They're better prepared for the specific tasks in their field, and they already have a physical and mental understanding of what the work entails.
RSI tends to attract students who prefer to work with their hands. Some already have careers in the construction industry, and they prefer to test out new theories on real equipment rather than study them in books. RSI's curriculum ensures that students are gaining practical experience throughout the program so they graduate with real, tested skills. For hands-on learners, technical schools are a great option for gaining the education they need to pursue a career.
To learn facts and statistics about the benefits of hands-on training, see the full slide show:
http://www.refrigerationschool.com/blog/how-to/slide-show-benefits-of-hands-on-training/
The Refrigeration School is an HVAC technician school in Arizona with programs for HVAC, solar/pv installation, mechanical maintenance engineering, and refrigeration technologies. For more information about local career opportunities in HVAC contracting, contact an RSI Admissions Representative:
https://www.refrigerationschool.com/
Email The Refrigeration School