Ylang Ylang Beach Resort Now Offering Special on Romantic Beach Dining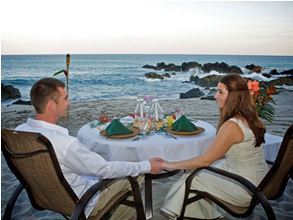 April 18, 2104 - Montezuma, Costa Rica - Ylang Ylang Beach Resort, the popular family-owned tropical resort destination, has announced a new deal for their romantic beach dining services. The special offer ensures Ylang Ylang Beach Resort guests qualify for a discounted rate of $129 per couple for a candle-lit, 3-course meal during sunset. This comes as good news to couples around the world celebrating their honeymoon or anniversary and seeking great values on romantic Costa Rica vacation getaways.
Ylang Ylang's intimate beach dining experience is designed to maximize the romantic atmosphere of Costa Rica's beautiful ocean scenery, with gourmet food and beverages. Couples will receive a welcome cocktail, 3-course meal, and their choice of wine or champagne. In addition, the beach dining service includes a personal waiter and private table decorated with tropical flowers. The special price of $129 per couple is for Ylang Ylang Beach Resort guests only; all other guests will pay at a higher rate.
The romantic beach-dining offer is part of Ylang Ylang Beach Resort's ongoing effort to give their guests a distinctive and unforgettable Costa Rican vacation experience. They are well sought after for their world-class restaurant, spa, beach dining, and more. Their location off the southern tip of the Nicoya Peninsula on the Pacific Coast is highly praised for both its picturesque beaches and its lack of crowds, especially during peak tourist season.
Ylang Ylang is proud of their beach dining services at their scenic beach resort in Costa Rica. They recommend couples begin planning their honeymoons and anniversaries now, to take advantage of the special beach dining offer this summer. Interested parties should visit their website,
www.ylangylangbeachresort.com
, to make a reservation today, or to peruse their many services and attractions. Or call them toll free at 1-888-795-8494 to speak to a representative for general inquiries.
About Ylang Ylang Beach Resort:
Founded in 1989 by couple Lenny and Patricia Iacono, Ylang Ylang Beach Resort is a unique tropical resort located near the town of Montezuma on the southern tip of the Nicoya Peninsula, on the Pacific Coast. Their resort is designed to offer couples, families, and travelers an opportunity for ultimate relaxation and adventure. They offer spa services, amenities, beach dining, tours, activities, and more.
Email Ylang Ylang Beach Resort