Glass Table Tops from Fab Glass and Mirror Setting New Trends in Furniture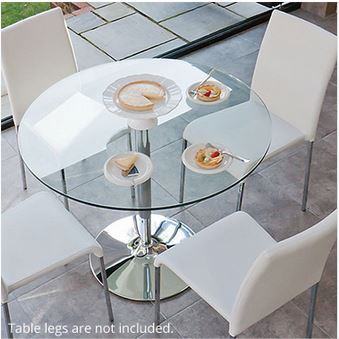 April 18, 2014 - Columbus, Ohio – Designers and home owners alike are always looking for the next great trend in decorative furniture. The choice you make in every piece of furniture can bring your décor to life or make it look tired and old. A
glass table top
is a valuable decorating tool that can be coordinated with the décor or used as an accent to give any room or area an exciting focal point. Choose clear glass for an elegant look or one of their numerous
colored glass table tops
to coordinate with other furnishings in the room. The versatility of these table tops and the numerous accessories available to go with them are just part of the reason that they are growing in popularity so quickly as a trend in furniture design.
Fab Glass and Mirror offers a choice of a 42", 48", and 60" round glass table top for use as an accent table, coffee table or glass top dining table. Accessories include glass shelf brackets and rectangular or corner glass shelves; square, oval, rectangular, and oval wall mirrors; and glass table tops in square, round, or rectangle shapes in a wide range of sizes.
Contact Fab Glass and Mirror to learn more about one of the most versatile trends in furniture today. Reflect your personal taste in the choices you make for decorating any room of your home. You can also purchase a glass table top replacement to make an existing table new again. Enjoy the convenience, attractive looks, and versatility that these table tops provide at a price that makes them even more tempting.
Learn more about Fab Glass and Mirror and their glass products that are growing in popularity. Call 888-474-2221 or use the Online Chat feature at
http://www.fabglassandmirror.com/
for help in choosing the perfect table top to suit your needs.
About Fab Glass and Mirror
Fab Glass and Mirror is an up-and-coming company specializing in manufacturing and distribution of glass and mirror products. Their strict quality control guidelines and processes allow them to deliver the highest quality products and services, while keeping their prices the lowest of all those in the industry.
Email Fab Glass and Mirror