CheckWorks.com Offers Free Shipping on Their Internet Special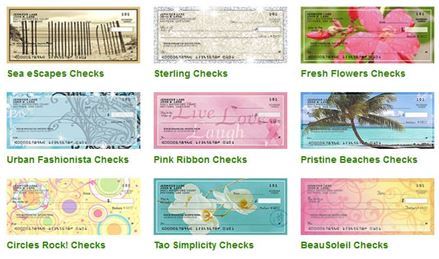 April 19, 2014 - Baldwin Park, CA – CheckWorks, the popular manufacturer and distributer of high quality checks, has announced their latest free delivery offer via their new Internet special. The deal grants no delivery charge on any sized order of personal checks purchased directly through their website. Free delivery is valid anywhere throughout the contiguous United States. This comes as good news to people around the nation seeking to order checks online with the lowest prices.
CheckWorks offers a wide selection of personal checks designed to reflect the unique personality or tastes of its users. A standard set includes either 125 single or 100 duplicate top-tear checks, plus one register book, and deposits per box. Customers can purchase one, two, or four boxes at a time, with price breaks on larger orders. In addition to free delivery, the Internet special also qualifies personal check buyers to receive free fancy lettering on all their orders.
Beyond the aesthetic charm of their large assortment of personal and business checks, CheckWorks is well known throughout the industry for their high safety standards and advanced protections they place on each check, including:
Utilizing chemically sensitive paper to prevent fraudulent alterations.
Microprint Signature Line — Tiny letters which look like dashes or solid lines without a magnifying glass.
Security Screen — Light printing that is exceedingly difficult to duplicate with a color copier or scanning/laser printer.
Padlock Icon and Warning Box — Symbol authorized by the Check Printers Stationery Association (CPSA) to warn consumers that security features are present.
Additional Protection — They used more fraud fighting techniques that they do not reveal to the public to improve Security effectiveness.
CheckWorks is proud of their latest free delivery special offer and its ability to help consumers find the cheap personal checks they desire. They recommend interested parties visit their website today,
http://www.checkworks.com/
, for more details on their Internet special and to peruse their large variety of personal checks, business checks, desk checks, computer checks, and more. Or call 1-800-971-4223 to speak to a customer service representative.
About CheckWorks
Originating in 1922, CheckWorks, Inc. has since grown into a major manufacturer and distributer of checks directly to consumers, and through banks and credit unions. A privately owned company, they have built a strong reputation over the years for innovation and affordability throughout the check printing industry. Via CheckWorks.com, customers can choose from a wide selection of personal checks, business checks, checkbook covers, and more, with 100% satisfaction and security guaranteed.