GreenRope Releases New Appointment Booking Feature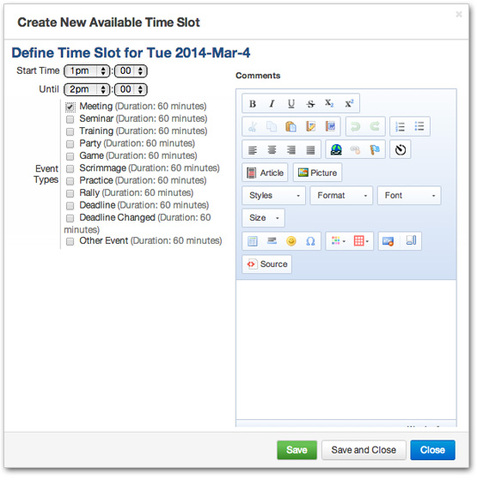 San Diego, CA – April 19, 2014 –
GreenRope
, the industry's leading CRM and Marketing Automation software, recently launched GreenRope's new booking feature. Now, instead of having to integrate a third party booking platform, GreenRope users have the ability to book appointments with GreenRope's Calendar feature.
"The ability to book appointments with GreenRope has been on the list for a while. We've had a lot of clients ask for this, and is something that I have even wanted for a while," explains VP of Sales, Bjorn DeBoer. "This new feature is a great selling point for us and just another way we consolidate and streamline all aspects of sales, marketing, and operations."
GreenRope users determine which time slots are available for people to request appointments. The calendar can be placed on any webpage, or accessed via a link embedded in an email or any webpage. Clients select available times, and the GreenRope user is notified and able to confirm the appointment.
GreenRope's Booking Feature Benefits:
Save Money: No need to purchase a third party booking agent.
Save Time: Determine available time slots, and let clients request available meetings times.
The booking feature is a great tool for sales professionals, as well as any professional service requiring appointments. Of course, all requests and meetings booked are trackable in the CRM.
"GreenRope just keeps getting stronger and more feature-rich," says Director of Marketing, Alessandra Ceresa. "GreenRope eliminates the need for any third-party applications, which was our goal all along."
Try GreenRope's 30-day trial at
www.greenrope.com
.
About GreenRope
Lars Helgeson, who saw the need to make running a small to mid-sized business easier and more efficient, founded GreenRope. GreenRope's mission is to resolve the challenges of managing business operations by providing cloud-based integrated software that is effective, affordable, and user friendly. GreenRope streamlines key operations, including e-commerce and accounting, CRM, email marketing, mobile marketing, calendaring, websites, social media and more, into one easy-to-use platform. By using GreenRope, companies can reduce their marketing and CRM software expenses by an estimated 80%. GreenRope's affordable pricing plans start as low as $99/month. Visit
www.greenrope.com
for more information.