Ambergris Caye, Home to ECI Development's Grand Baymen, Was Recognized as a Top Island in the World for the Second Year in a Row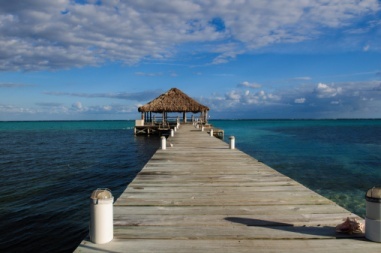 April 22, 2014 - Belize's Ambergris Caye has earned
TripAdvisor's prestigious "Top Destination in the World" Award for 2014
, an honor it has received for the second year in a row. In 2013 Ambergris Caye also earned the award, determined by the results of a poll of TripAdvisor users.
Located off the northern coast of Belize, Ambergris Caye is a long, relatively narrow island that offers access to the open waters of the Caribbean Sea on three sides. As the largest island in Belize, Ambergris boasts miles of white-sand beaches and a well-preserved mangrove swamp in its verdant interior.
The island also sits near the Belize Barrier Reef, a teeming underwater ecosystem that attracts professional and amateur divers alike. The Blue Hole, a 400-foot deep limestone cistern, provides a habitat for a variety of marine species and is among the most popular destinations for deep-water divers.
The island is home to Grand Baymen, one of ECI Development's signature properties. With easy access to the town of San Pedro and hundreds of feet of direct ocean frontage, Grand Baymen provides resort accommodations as well as condominiums and townhomes for second homeowners, active retirees, young families and property investors.
Grand Baymen occupies two choice parcels. The first is a resort area that fronts directly on the ocean and features high-end amenities. The second is a beautiful cluster of condominiums and townhomes that boasts quality construction and creature comforts as well as easy access to the water.
As Ambergris Caye's reputation continues to blossom, ECI Development has committed significant resources to building Grand Baymen into Belize's premier waterfront community.
Recognition for Ambergris Caye from TripAdvisor and other sources has also built momentum at ECI's three other Central American properties: Nicaragua's Gran Pacifica Beach & Golf Resort, Costa Rica's Gran Caribbean Resort and Panama's Los Islotes. ECI Development looks forward to serving the needs of visitors and property owners at each of these distinctive communities.
To learn more about ECI Development and how they help North Americans get their dream lives in paradise at a reasonable cost visit call Mike Cobb at 011-505-2265-1137 or visit
www.ecidevelopment.com
.