Schilling Travel Celebrates 90th Anniversary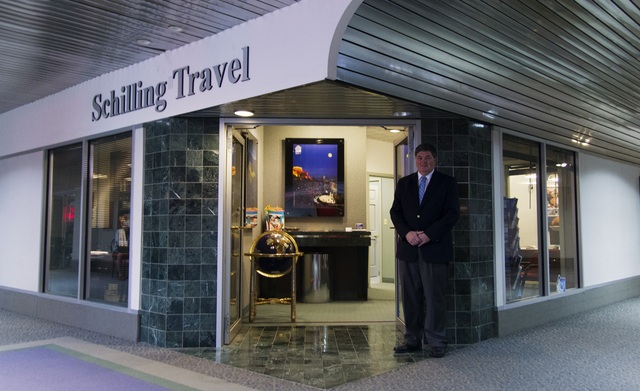 MINNEAPOLIS, April 23, 2014 — Schilling Travel, a highly respected travel agency in Minnesota, is celebrating 90 years of providing travel services. To commemorate the year, Schilling has initiated a section of their web site to the anniversary, including photos and newspaper ads from 1924 when the agency first opened offices in downtown Minneapolis.
"We are proud to have served our clients for nearly a century," said Robert Herman, president and owner of Schilling Travel. "This milestone speaks to the incredible work that our travel team has done in providing service excellence in good times and bad. We are continuing to build on the reputation that was developed by Wilber and Bill Schilling who managed the agency for the first half century."
"Travel has changed substantially from the early years, and Schilling has adapted to the changes. In 1924, Schilling was selling month long or greater train and steamer trips to Europe and other international destinations", said Herman. "Now, most of our clients go via air and the majority of trips are two weeks or less."
On the website, there is a section with the complete diary of Bill Schilling, Wilber's son and second owner of the agency when he went with his parents and Schilling clients on a round the world cruise in 1928 at age 14. Today, Schilling still offers its clients round the world cruises.
Schilling Travel is comprised of a talented team with over 180 combined years of travel expertise in creating memorable and hassle free travel, seeking out unique travel opportunities for its clients, and helping its corporate clients manage their corporate travel spending. Schilling Travel clients include groups, small to midsize businesses, law firms, colleges and universities, and leisure travelers.
ABOUT SCHILLING TRAVEL
Schilling Travel is a full-service ARC accredited travel agency known for its service excellence approach to travel. Schilling is a member of the American Society of Travel Agents (ASTA). Schilling offices are located at 250 Second Avenue South, Skyway Suite 229, Minneapolis, MN 55401. Their main phone number is 612-332-1100. Schilling Travel is owned by Allied Continental Holdings, Inc., a privately held Minnesota Corporation.
Contact: Robert Herman, Schilling Travel, 612-436-1048,
Robert@schillingtravel.com
Source: Schilling Travel
Related Links:
http://schillingtravel.com/90_Year_Anniversary