Taradel Launches New Every Door Direct Mail® Blog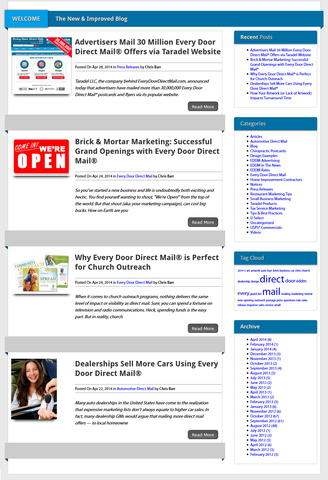 April 29, 2014 - Taradel LLC announced today the launch of a new and improved Every Door Direct Mail® blog, geared towards the small business community. The news comes one week after the company reached a major milestone, with over thirty-million postcards and flyers delivered via its popular EveryDoorDirectMail.com website.
"Our clients are educated and business-savvy," says Chris Barr, director of marketing for Taradel LLC. "We are proud that our website has helped thousands of advertisers plan and launch EDDM® campaigns, but that is not our goal. Our goal is to provide clients with the tools and resources necessary to be successful with their marketing efforts."
The new and improved blog is built on Taradel's proprietary platform, which enables seamless integration with existing Taradel user accounts. This change will enable existing and prospective Taradel account holders to form a more vibrant community moving forward.
Currently, the blog boasts hundreds of articles, videos, marketing tips, and more. Visitors to the blog will be treated to a variety of marketing-related topics, such as: How to Design a Direct Marketing Postcard (VIDEO); Brick & Mortar Marketing: Successful Grand Openings with EDDM®; and Using Every Door Direct Mail® vs. Mailing Lists.
"We have clients ranging from small business owners, to non-profit organizations, and franchisees," says Barr. "As such, we deliver content that has wide application, and also some content which is laser-targeted for specific industries. For example, whether you operate a pizza shop, own a dental practice, or run the outreach program for your church, we've got content designed to help."
The new
Every Door Direct Mail® Blog
also makes searching for relevant content easier. There are dedicated navigation links for Recent Posts, Categories, and even a massive Archive of content dating back to February 2012.
For more information about Taradel's turnkey direct marketing solutions, visit
http://www.everydoordirectmail.com
Follow the company on social media via
Facebook
and
Twitter
.
About Taradel LLC
Taradel LLC, founded in 2003, is a Virginia-based Inc. 5000 company with an A+ Better Business Bureau rating. The company provides agency-quality creative, print, and direct mail services at affordable rates.
EVERY DOOR DIRECT MAIL®, EDDM®, USPS®, U.S. POST OFFICE®, POST OFFICE™, and ZIP CODE™ are trademarks of the United States Postal Service® and are used with permission under license.
Email EveryDoorDirectMail.com