Altruic Advisors Announces Transition to Serve Nonprofits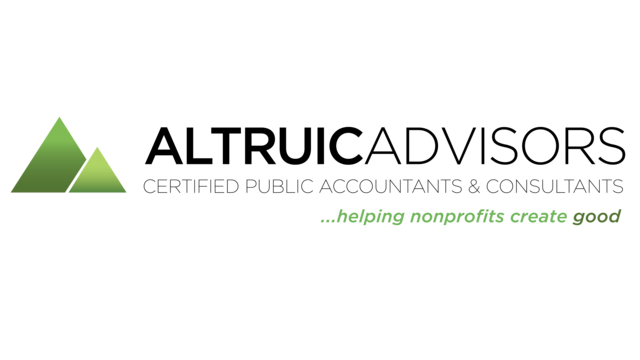 May 6, 2014 - Ann Arbor, MI - Certified public accounting and consulting firm, Altruic Advisors, has changed its business model to serve the needs of not-for-profit clients. Altruic Advisors, a CPA firm located in Ann Arbor, MI, will now concentrate exclusively on serving nonprofit organizations, making it one of only a select number of CPA firms in the nation to do so.
Along with the other changes it revealed, Altruic publicized a new menu of cloud-based solutions formulated to help nonprofits with routine their accounting and administrative functions. According to the firm's website, this
CFO Solutions
service was devised following years of information gathering that directly polled the opinions and feedback of program directors, executive directors, and board members associated with different nonprofits. Altruic's CFO Solutions is a direct result of this feedback. The services aim to streamline nonprofits' accounting and administrative tasks, minimize the potential risks associated with fraud, improve the timeliness and accuracy of financial statements, while decreasing costs associated with these general and administrative functions.
Altruic is confident that its value-added service will help meet the as-yet-unsatisfied demands and needs of NPOs, without forcing cash-strapped organizations to add internal CPAs to their payrolls. By integrating its CFO services with distributed computing technologies and securely hosted software, Altruic hopes to create a more convenient online toolkit that facilitates common accounting tasks, such as endowment tracking, bill payment approval, payroll management, and document storage.
The firm also noted that its existing services have also been retooled for nonprofits. Altruic's CPAs will continue to provide
audit
, tax, and consulting services for nonprofits. All team members receive continuous training to help them stay updated on audit, accounting, and tax rules, regulations, and pronouncements that affect nonprofit organizations.
Ryan Hagan, one of the firm's nonprofit specialists, stated, "We are proud to focus 100% of our work in the nonprofit sector. Because Altruic is among the rare handful of CPA firms that work exclusively with nonprofits, we elected to provide services like the CFO Solutions package on a nationwide basis. The fact that our services are 100% cloud-based is key to our unique positioning to help nonprofits. We firmly believe that this move will allow us to help more NPOs fulfill their charitable missions."
About Altruic Advisors
Altruic Advisors is a CPA firm with a mission of "helping nonprofits create good." Altruic has provided accounting, auditing, and advisory services to nonprofit organizations since its founding. The firm is one of a select number of CPA firms in the country to focus 100% of its work in the
nonprofit
sector. They offer a number of complementary resources and tools, such as financial calculators and an informational link repository, via its web portal. It currently operates offices in Broomfield, CO, Colorado Springs, CO, Ann Arbor, MI, and Novi, MI with plans for future expansion.