ECI Development Names Experienced Veterans Maura A. Fitzpatrick as COO and Michael G. McAuley as CFO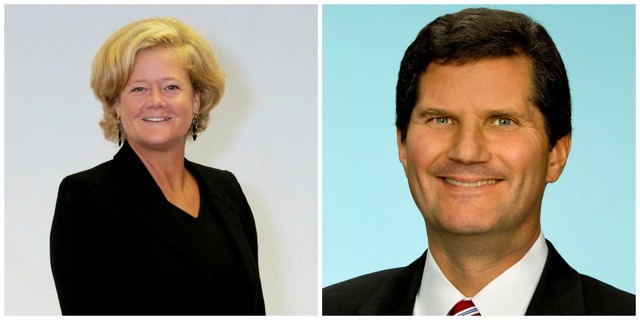 May 6, 2014 - ECI Development, a dynamic real estate development company that owns properties in four Central American countries, proudly announces the appointment of two experienced executives to its senior leadership team.
Maura A. Fitzpatrick, a 20-year real estate industry veteran, who has played a wide range of roles during her career, will be coming on board as the company's new chief operating officer. And Michael G. McAuley will bring nearly three decades of experience in accounting, finance and other key areas to his new role as ECI Development's chief financial officer.
Together, these appointments promise to position ECI Development, one of the few Central American real estate development firms to survive the recent global economic downturn, for a new phase of growth.
"The knowledge and expertise Maura and Mike bring us will supercharge our growth," said Michael Cobb, ECI's chairman and chief executive officer, based in Managua, Nicaragua. "With most of our pre-2008 competitors out of business, we are seeing a refreshing uptick of real estate sales and looking to capture greater market share."
Both ECI Development executives bring key skills to the table. Maura Fitzpatrick has 20 years of operations management, real estate development and strategic planning as a corporate consultant and in-house professional at the Kane Company, a real estate development firm with more than $110 million in assets.
Ms. Fitzpatrick has performed a range of key real estate services during her career and has worked on projects with budgets of up to $150 million. Ms. Fitzpatrick has also held leadership roles in several other industries, including digital media, public relations and application development.
Michael McAuley has worked for nearly three decades as a financial professional at the highest levels of corporate leadership. In his prior role, he served as vice president and treasurer of the $8 billion Goodrich Corporation. His duties there included managing a $5 billion retirement portfolio and $2.5 billion basket of foreign exchange hedges.
His experience has seen him collaborate with corporate and investment bankers, insurers and external auditors. As an ECI Development executive, he promises to strengthen the company's financial position even further and spearhead an aggressive program of growth.
About ECI Development, Ltd.
Since 2000,
ECI Development
has developed, managed and marketed properties in
Belize
,
Costa Rica
,
Panama
and
Nicaragua
. The company directly owns more than 4,000 acres and is currently evaluating plans to acquire and build on a new site in Ecuador. The company specializes in vibrant, people-centered communities that bring North American development standards and modern amenities to low-cost markets across Central America.