Advantage CCS Survey Reveals 49% of Americans Do Not Have a Savings Plan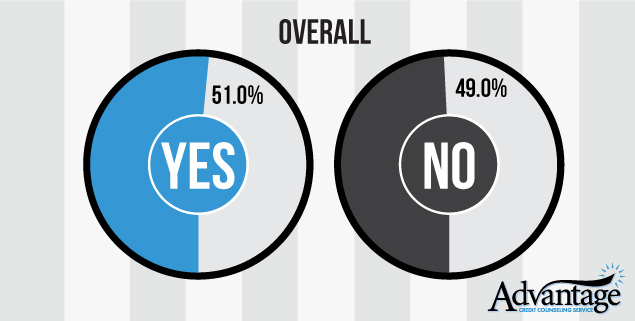 May 2, 2014 - A recent survey conducted by AdvantageCCS revealed that 49% of Americans do not have a savings plan. Although the numbers are fairly consistent around 50% throughout all age brackets, people between the ages of 25-34 come out on the high end with a 57.1% use of savings plans. On the other hand, only 33.3% of people ranging from the ages of 18-24 actively adhere to a savings policy.
Some of the most significant readings of the survey can be seen when considering the results in relation to income levels. Respondents with incomes ranging from $0-$99,999 all hover around the 50% mark, but higher income brackets demonstrated a larger percentage use of savings plans. In fact, 87.5% of people making between $100,000-$149,000 are actively using a savings strategy.
Other factors such as gender, age, regional location, and urban density were also considered in the survey. These components also tended to fall close to the 50% point established throughout the survey. These numbers may reflect a split decision to save throughout the country, but they can also be quite troubling when you consider the many negatives that can surround a lack of savings.
After regular expenses (rent/mortgage, bills, food, etc.) it may be unwise to simply allow your money to sit idle in your checking account. Why not make your money work for you? Setting aside a portion of each paycheck to be placed in a savings account can generate interest, and allow for a financial cushion to be built in case of unforeseen events. Lack of a savings plan can be a sign of a person losing track of their money. This often leads to overspending, living paycheck to paycheck, and the gradual rise of credit card debt. These circumstances frequently leave people in a bad position when emergencies occur. Whether it be health issues, car accidents, or any other unanticipated event, it is important to have a backup plan. A standard emergency fund will ideally cover your normal expenses for 3-4 months, and should be held in an account where it can be easily accessed.
Savings strategies are also used by many people who are planning for the long term. These are commonly seen from individuals who want to put money away for an eventual retirement fund. Some prevalent examples of these are IRAs and 401(k)s. It is important to note that these types of accounts are not meant to be drawn from in the short term, and substantial penalties can be assessed for early withdrawal.
For the full results of the survey see
http://www.advantageccs.org/survey-shows-that-only-half-of-americans-have-a-savings-plan.
Advantage CCS is a non-profit credit counseling firm that provides Debt Management Plans, bankruptcy counseling, financial education, and budgeting services. If you are struggling to eliminate your debt, contact a certified financial advisor at Advantage CCS:
www.advantageccs.org