VENYO's B737NG revolutionary FTD demonstrated at Farnborough International Airshow 2014, Secure your hands-on cockpit experience now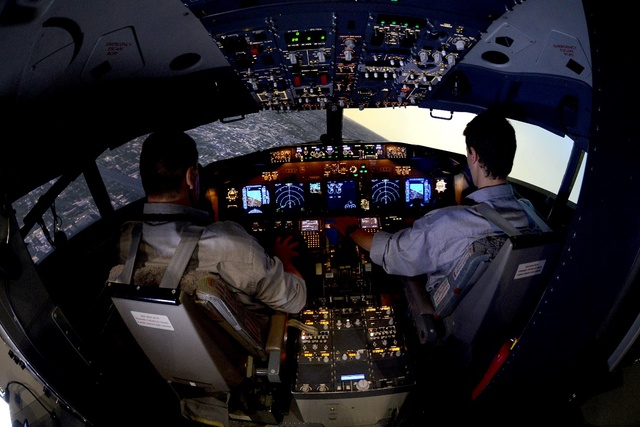 Charleroi, Belgium (May 7, 2014) - Venyo's activity is to design, manufacture and market professional flight simulators (JAA/FAA certified). Over the last 5 years, Venyo has been working on a revolutionary FTD prototype (Boeing 737NG) which was revealed and made its
'World Premiere'
at the Paris Air Show in 2013. It was the very first time that the aeronautical industry was able to view an innovative and fully functional flight simulator operated 'on site' at Le Bourget. Qualified as a
'Game Changer'
by the professional ecosystem not only confirmed but encouraged Venyo's intention to continue to invest and move from concept to commercialisation.
As a result, Venyo is proud to announce that its very first pre-production unit (in the process of obtaining EASA certification) will be demonstrated at the
Farnborough International Airshow 2014
. Exclusive added value benefits and unique features include:
The only global player offering a 'Pay-per-Use On site' model to help reduce operational costs
Full transportation and installation at your premises for immediate on-site operation eliminating set up delays or need for dedicated engineers
Technical functionality well above all FFS Level D requirements with unique pedagogical features
We do not want you to miss the opportunity to have a full demonstration of the new technological features, innovation, design and cost-effective options of Venyo's new flight simulator. There will be a
limited number of 80 exclusive slots
with a duration of 30 minutes each. To secure your personal hands-on cockpit experience, please send an e-mail to
farnborough2014@venyo.aero
with your contact details and timing preferences and we will in turn send you a confirmation message. We will do our utmost best to accommodate all schedules.
Please book your slot as soon as possible and we are looking forward to welcoming you at our booth Hall 1 / A14!
Attachments