EPIC Entertainment Shares How To Choose The Right Entertainment For Your Event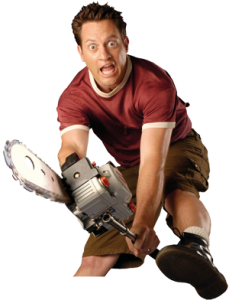 May 24, 2014 - So many options, so little time… When choosing entertainment for your event it's important to keep in mind that in addition to venue and decor, this will set the tone for the evening. Entertainment comes in many forms, from setting the mood at the entrance with "paparazzi" or ushers, to walking tables and graffiti mural artists. EPIC Entertainment offers the following tips to ensure your entertainment is up to par.
Think Outside the Band
If the goal is to get the guests dancing, then of course, a band or DJ is in order. However, there is a huge range of interesting and unique performers who can create a truly memorable experience. Looking for something really exciting and memorable? Forget fire artists,
Mad Chad Chainsaw Juggler
is a unique and crazy funny performance act (especially to those sitting in the front rows! ).
Cocktail hour is a great time to introduce some interesting entertainment. A
graffiti mural artist
can be great for a team building event, creating the company logo as onlookers enjoy the art coming to life.
What is the theme and/or vibe of the party?
If you're looking for musicians consider the vibe you are attempting to create. Is the aim to create an energetic, interactive event or a more subdued, relaxing atmosphere? You can get the crowd pumped up with the combined pop hits from
Fly Guy Mash up Band
or keep it mellow, yet fun and hip with
Re-String
, a highly-skilled and poised string quartet that surprises with a set comprised of contemporary rock favorites. Additionally, with so many styles of entertainment, it's very easy for us to match an artist to the theme. With rock, western, beach/tropic/steel drum and more, we can suggest the right sound with the right vibe for your event.
What is the general age of the guests?
Always keep in mind the age of your guests when booking entertainment. Research shows that most people tend to prefer music from their teen years. At Epic Entertainment we have acts for every generation, including big band, tribute and, of course, any name act your group would prefer. Additionally, if music isn't in the mix for this event, we can suggest a variety of other acts that appeal to different age groups, including
ventriloquists
,
Live Rock! Karaoke To A Live Band
, and more.
Who are the guests?
What is appropriate for a group of friends, may not work for a corporate group. You don't want anyone to be uncomfortable or for you to have booked anything inappropriate. Comedians, dancers and specialty acts are a great example here. We know our roster well and can help ensure that the jokes or moves will create the perfect tone for your event. While the
Giant Martini Glass Girls
interactive cabaret is perfect for a certain crowd, the
Martini Kings
retro jazz sounds may be better for a particular event. We'll help you figure it out.
No matter what the theme and goal of your event, when you work with
Epic Entertainment
, you can reply on us to ensure that your entertainment fits perfectly for your guests and the ambiance you want to create for your unforgettable event.
About Epic Entertainment
Ray Gosselin is the owner of EPIC ENTERTAINMENT and PRODUCTION GROUP. Epic has been providing Headline Acts and a broad spectrum of contemporary, unique, and interactive event entertainment for over 18 years to corporate and private buyers. Epic's range of services isn't just limited to booking acts. Our expertise also encompasses comprehensive production services including staging, sound, lighting, back-line equipment, and rear-screen projections for both large concert size facilities, or smaller, more intimate venues locally, nationally, and world-wide. For more information, please visit:
www.epic1.com
.
Email Leap Onlline Marketing