Flying Shouldn't Cost The Earth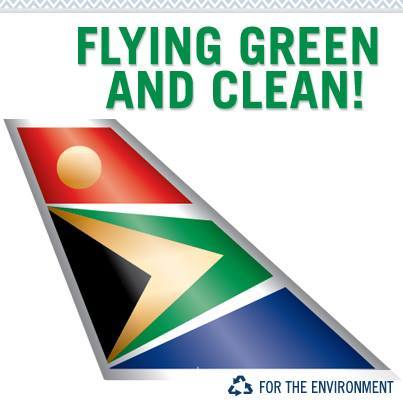 May 13, 2014 - Johannesburg, South Africa – "2014 promises to be a challenging and exciting year for sustainability within the SAA Group and you, our passengers, can rest easy in the knowledge that the airline you've chosen is flying in the most responsible manner possible", says SAA's Group Environmental Affairs division.
2013 was a very successful year in SAA's continuing sustainability drive with the establishment of a biofuel programme, a recycling programme, an Environmental Management System, sustainable procurement policy development, partnerships with the WWF, the Boeing Company and others, as well as a continued seat on the International Air Transport Association (IATA) Environment Committee.
South African Airways was also accepted into the Sustainable Alternative Fuel Users Group (SAFUG) charged with producing environmentally sustainable biofuels.
Going forward, SAA's implementing an increasingly ambitious programme in order to accelerate the move towards becoming the most sustainable airline in the world. Over the next few years, it's targeted numerous bold initiatives designed to reduce its impact on the environment from continuing operations emissions.
Due to the fact that – unlike other modes of transport – airlines can't change to alternative sources of propulsion or energy, liquid fuels that offer the required energy densities and low freeze points are here to stay for the foreseeable future. One of the only ways to effectively reduce this impact is to introduce low-carbon biofuels that offer the same chemical properties as Jet A1 fuel, but with a fraction of the carbon value. For this reason, SAA will continue to aggressively pursue a sustainable biofuel programme.
SAA is focusing on attaining the IEnvA Stage 2 and CORE accreditations that form the basis of a comprehensive Environmental Management System. This system addresses critical sustainability concerns such as water usage and wastage, emission measurements, reduction and reporting, reduction of waste and increased recycling, sustainable procurement practices and continued operation efficiency measures, among many other factors.
SAA will continue its Voluntary Carbon Offset Programme and switch to a South African project which generates carbon credits that can be offset against a passenger's journey. Only verified credits are used and the programme is administered independently by IATA. SAA's low-cost subsidiary airline, Mango, also joins the programme this year.
Other subsidiary companies taking meaningful sustainability steps include Airchefs, the group's catering division, which is targeting the title of Greenest Airline Caterer in Africa this year and SAA Technical, which will be gearing up for the IEnvA CORE+ programme.
In order to assess the impact of these initiatives, SAA will comprehensively measure and report on the group's carbon footprint and introduce other action plans to reduce this, including pursuing the quest for clean, renewable energy.
About South African Airways
South African Airways is a Star Alliance member that offers flights to 38 destinations worldwide
. Domestically, SAA operates 544 flights a week between Johannesburg – Cape Town, Durban, East London and Port Elizabeth .
Regionally SAA offers 24 destinations across the African continent
and its international network creates links to all major continents from South Africa through 10 direct routes. In the regional category, SAA has received the Skytrax 'Best Airline in Africa' Award for 11 consecutive years.
Contact Information
Media Relations Department
SAA
244 222 320 744
Contact Us