Drix Immigration & Tax Services Corp. Sponsors and Participates in Local Immigration Reform March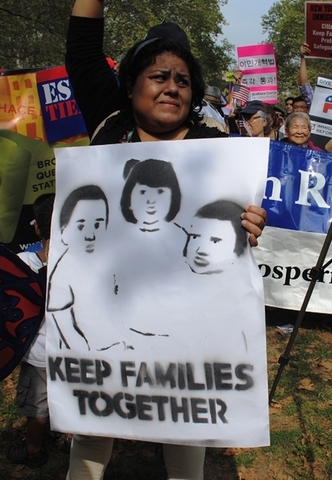 May 14, 2014 - Winter Haven, FL – Drix Immigration & Tax Services Corp., located in Winter Haven, FL, recently sponsored and participated in an important immigration reform march in Lakeland, FL.
On May 1, supporters of federal immigration reform marched in Lakeland to show their support for a comprehensive immigration reform bill. The march started at 9 a.m. at the Southgate Publix and ended a couple hours later at Ross's district office at 170 Fitzgerald Road. There, marchers assembled for a brief rally.
Drix Immigration & Tax Services Corp., located in nearby Winter Haven, FL, acted as a participant and sponsor of the event. According to Pier Spencer, Enrolled Agent and owner of
Drix Immigration & Tax Services Corp
., immigration reform will strongly benefit the United States by bringing in trillions of dollars into the US treasury with immigration fees, fines, and back taxes that undocumented workers will have to pay to become legal residents.
"Moreover, state and county governments will also benefit because of the amount of new driver's licenses that must be issued. Perhaps most importantly, the federal government will know who is in their country once and for all," Spencer said.
Spencer, and the entire team at Drix want to shatter the negative stereotype that illegal aliens are only here to live off the federal government and rob the American people of their jobs. These claims, Spencer says, are so far from being true.
"Most immigrants leave their country to come to America in search of a better life for their families. They aspire to become business owners and leaders in their communities, and just want to experience the opportunity to achieve the American dream. The broken immigration system as it exists right now needs to be fixed," Spencer said.
Drix Immigration & Tax Services Corp. is centered around creating a smooth transition for people integrating into the US system. They take the time to listen to their clients and guide them on the right path so they are compliant with all government regulations. They live and breathe their business motto: "Caring for Your Future."
About Drix Immigration & Tax Services Corp.
Drix Immigration & Tax Services Corp. was established in 2013, although as a business it has existed in the past under different names. Pier Spencer, EA, owner of Drix, has been in the accounting field since 1983 and has been specializing in taxes since 1999. Drix is a relationship-driven, big-picture firm that goes beyond the numbers for
immigration assistance
. For more information on Drix Immigration & Tax Services Corp., please visit the website at drixtaxusa.com.
Email Drix Immigration and Tax Services Corp.