LaserShip Helps to Solve the "Last Mile" Shipping Challenge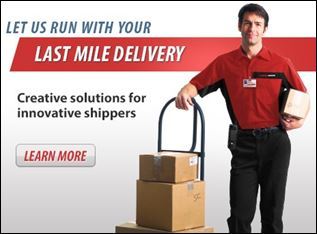 May 16, 2014 - Vienna, VA - LaserShip, the premier last mile parcel carrier to the retail industry, offers a cost-effective solution for the last mile delivery challenge of the transportation industry. Transporting goods via freight rail networks and container ships is often the most efficient and cost-effective manner of shipping. However, when goods arrive at a high-capacity freight station or port, they must then be transported to their final destination. This last leg of the supply chain is often less efficient, comprising up to 28 percent of the total cost to move goods.
LaserShip's large and continuously expanding "one-day" footprint connects companies with over a third of US residences at standard ground rates. LaserShip efficiently and effectively facilitates same day delivery in 28 major metropolitan markets on the East Coast of the US, to ensure that deliveries arrive in a timely fashion right to clients' doorsteps.
To help clients complete the last mile delivery, LaserShip's unique capabilities include later pull times, accessorial fee flexibility, Saturday and Sunday delivery options, and integrated transportation and warehouse management systems.
To learn more about this cost-effective last mile delivery solution to the East Coast, visit
www.lasership.com
.
About LaserShip
LaserShip makes deliveries happen faster for businesses and consumers. We've developed a unique east coast delivery network positioned to enhance the speed and flexibility of last mile delivery. We help consumers get products more quickly, while lowering the cost of distribution for the businesses they buy from. In addition to being an ideal delivery partner for e-retailers, we feature specialized divisions that support time-critical delivery for healthcare logistics, routed delivery and Global Next Flight Delivery. We have over 600 employees who share a passion for great service, connecting you with 2500 independent couriers who achieve on-time delivery seven days a week, enabling our expanding delivery network to reach more people every day.