New York Window Film, Co., Inc. has products that will extend the beauty of your furnishings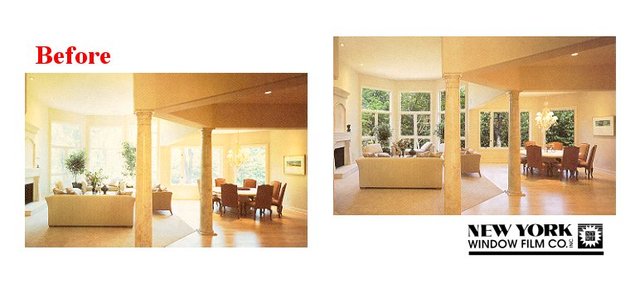 May 22, 2014 - Do you find yourself running from room to room, opening and closing curtains, blinds, or shades, just to prevent the sun's damage? Who does that for you, when you are not home, and you forgot to close them?
You have invested significant time,
energy
and resources (money), into decorating your home. Now that you have it the way that you like it, wouldn't it be nice if you could keep it looking nice forever. Although "forever" is not realistic, there is no reason why you could not double, triple, and even quadruple the time that it would take for your furnishings to fade.
What causes furniture fading
? Most people have the misconception that it is only the UV Rays that cause fading. But in fact, Ultra Violet causes only 40% of fading. Another factor, that causes things to fade, is the solar heat, which cause 25% of fading. Yet, another factor is the sun's visible light, which causes an additional 25% of the fade. That adds up to 90%. The last 10% is listed under miscellaneous factors, like humidity, and interior lighting. Considering all of that, you are correct in your efforts to keep the sunlight from hitting your furnishings. But then you have no view. What is a homeowner to do? Another misconception that people have is that window film has to be dark to be effective. In fact, there are films that will give you significant fade reduction and would not even be noticeable to anyone entering the room.
New York Window Film has been installing fade reducing window film, in the NY Metro area, including Long Island, Westchester, parts of New Jersey, and Connecticut, for almost a quarter century. They carry major window film brands manufactured by
3M,
Vista
, Llumar, Solyx, and others.
They offer
free estimates
, which can often be accomplished with only a phone call. President, Steve Pesce, jokes that "Yes, you can still let your fingers do the walking, just dial the phone". However, when necessary, a Free site visit can be arranged. He also claims that New York Window Film delivers not only the finest window films, in the industry, but also the finest customer service. A person will always answer the phone, during business hours. They have a film for every purpose, and every budget, residential or commercial.
Other film categories:
Window film can give you the peace of mind that you want, while allowing you to have a great view out your windows.
Email New York Window Film, Co., Inc.