Free Fast shipping of Quality Tomato Machines by Consiglio's Kitchenware & Gift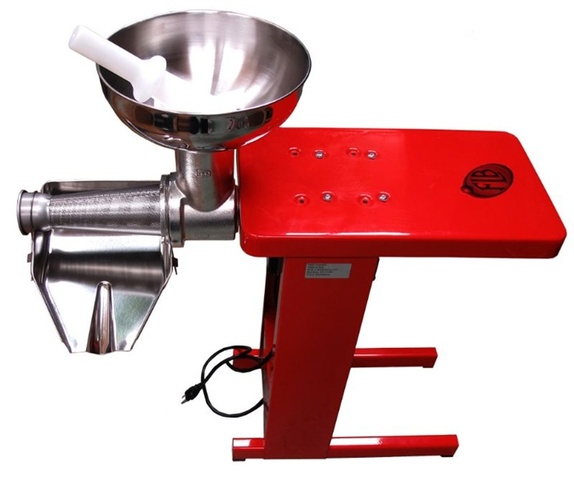 May 23, 2014 - Consiglio's Kitchenware & Gift has specialized in top quality Tomato Milling Machines Equipment since 1975. As one of the worlds's #1 resources we carry top brands like Fabio Leonardi, OMRA, Reber, Imperia and much more! Our Selection of
Tomato Machines
are designed and made in Italy using top quality materials. Tomato Machines also known as Tomato Milling Machines will separate seeds and skins from boiled or raw tomatoes leaving fine sauce puree for pasta and many other dishes. One main advantage of making your own sauce is the health benefits of reduced sodium and control of ingredients. Lycopene which is an antioxidant compound found in tomato is linked to reduced risk of certain cancers including Lung, Prostate and Stomach. Consiglio's Kitchenware & Gift has serviced the Canadian & United States markets with Tomato Milling Machines and accessories. Once a market of primarily European descent now has grown to many cultures due to the clear health and taste benefits of homemade tomato sauce.
Free Fast shipping of Tomato Machines has been our strength! We understand that once you have purchased your tomatoes time is of the essence as your tomatoes ripen. We use only the best methods to quickly ship your Tomato Milling Machines directly to your home or business in Canada and Continental United States Free on order over $69.99!
Tomato Machines
comes in electric and manual models. Manual being a hand crank and designed for smaller operations. Our electric Tomato Milling Machines take the leg work out of this process and allow for much faster and larger production of sauce. Fabio Leonardi Tomato Milling Machines provide the best electric made models using premium materials and powerful motors. Still made in Italy Fabio Leonardi provides a steadfast approach to consistent Tomato Milling while providing a durable product that is designed to last.
In 1993 founder of Consiglio's Kitchenware & Gift, the late John Consiglio passed away from heart disease. Until 2012 Consiglio's Kitchenware & Gift ran the Great Tomato Hunt Contest where contestants would gather in our store location for 1 hour in August and bring in their largest home grown tomato. Consiglio's Kitchenware & Gift donated $10 for each Kilogram Weighed generating thousands of dollars to the heart and stroke foundation and a portion of our
Tomato Milling Machines
sales for the Month of August!
Email Consliglio's Kitchenware & Gift