Lighthouse Financial Planning creates a slide show outlining their services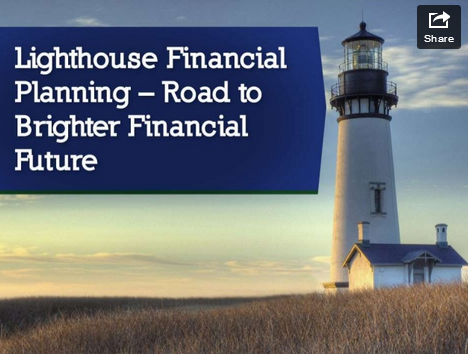 May 23, 2014 - Lighthouse Financial Planning, an asset management company based out of Folsom, Ca has released a slideshow outlining and describing the road to a better financial future.
The fee-only, financial planning firm provides clients with financial and wealth management advice, as per CFP Board of Standard's financial planning process. This helps customers reach their financial goals. The wealth management advisors have developed different programs to fit all lifestyles and financial needs.
Lighthouse Financial Planning provides certified financial consultants and professionals who provide a lifelong approach to wealth management and financial planning. The wealth management team at Lighthouse Financial Planning offers support in wealth management & financial life planning, wealth accumulation, asset management and a 401k Wealth Building program. Each program provides its own type of support and financial guidance.
Wealth Management & Financial Life Planning offers extensive financial planning and asset management services allowing clients to live the life they want. The program is designed for those well on their way to retirement, helping them save and manage their wealth as much as possible before retiring.
The Wealth Accumulator is a one-of-a-kind program that gives clients all the service and support they need to be financially successful in today's economy. The program, designed for those in the middle of their careers seeking to secure their assets, typically helps with retirement savings, investment managing, college education planning and the efficient use of available employer provided benefits.
Asset management provides professional investment management based on economic and investment theory. The program uses strategic asset allocation to reduce risk and provide returns to meet your income and growth goals.
The 401(k) Wealth Builder is managed in compliance with sound science and proven methodologies. The program, designed for small employers offers a financial literacy program as well as provides professional financial advice.
To learn more about the service programs offered at Lighthouse Financial Planning, see the full slide show at
www.lighthousefinancialplanning.com/blog/slide-show-financial-planning-programs
.
Lighthouse Financial Planning is a fee-only firm in the Folsom, California area that provides clients with sound advice and support to make the best informed decision that will best suit their financial needs and their future. Professional and trusted wealth management advisors can help you realign your financial resources to meet your lifelong goals. For asset management and wealth management services contact Lighthouse Financial Planning today.
Email Lighthouse Financial Planning