Discuento leverages the convenience of coupon sharing for bargain-hunters and merchants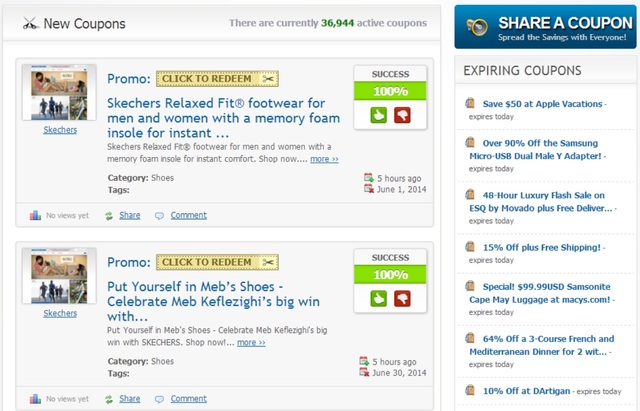 May 24, 2014 – Discuento.com revolutionizes the way consumers can take advantage of big, big discounts. The website serves as a coupon-sharing platform where people can enjoy more value for every dollar spent shopping – online or at traditional brick and mortar shops. But the story does not end here as retailers, merchants, and service providers also get to enjoy the advantage of a cost-effective marketing solution at the same time.
A fusion of the Spanish 'descuento' and English 'discount', the name is a telltale of the founder's mission to help consumers enjoy savings through offering free deals. What started out as a website dedicated to benefit the Filipino-American community in the United States who often buy goods for their family back home, has grown to encompass the global buying market with a range of favorite US to international brands.
Discuento.com
supports purchase discounts in formats that are widely used in the Internet from coupon codes, digital coupons, limited-time offers, printable coupons, to special promotions. Stores, merchants and other businesses are sorted into 63 product/service categories to help consumers easily go through the thousands of coupons in the discount coupon database. For the tech-savvy, the website can be accessed via iPhone, iPad, Android phones, and any other popular mobile device… without the trouble of installing an app.
The Difference for Consumers: User Experience
What sets Discuento.com apart from Daily Deals Sites is the obligation-free shopping experience that site members enjoy. It offers a clean, uncluttered and very simple to use interface that makes looking for the best deals refreshingly fast and easy. Unlike most daily deal sites, Discuento users do not have to make an upfront purchase to really benefit from the discount.
With Discuento, everyone is free to use any of the discount coupons as they please. The coupons can be used immediately, bookmarked and saved for later, passed to other consumers, and even be discarded if in the end the shopper decides not to purchase anything. The platform eliminates the worries of unused coupons, expiry dates, cancellation and returns, and other problems associated with upfront purchasing of discount vouchers.
Cost-Effective Marketing Solution for Sellers and Business Owners
For merchants, business owners and service providers; Discuento provides a self-service marketing platform that puts coupons in front of prospective buyers/clients to boost promotion and sales.
A very straightforward and simple pricing model is put in place. For a small fee, not only will the discounts reach a more targeted, larger number of users; each coupon will also get the chance to be displayed prominently at the Featured Coupons slider at the home page. A business listing at the
Store Directory
will remain in the directory without expiration, meaning a better and more lasting means of promotion. This online listing can help boost organic SEO and improve the chance of your product/service to show up at search results. A social media integrated website, Discuento also allows users to share the awesome deals with their connections at social media networks.