The Ellis Hotel Discovers a Trend in Young Americans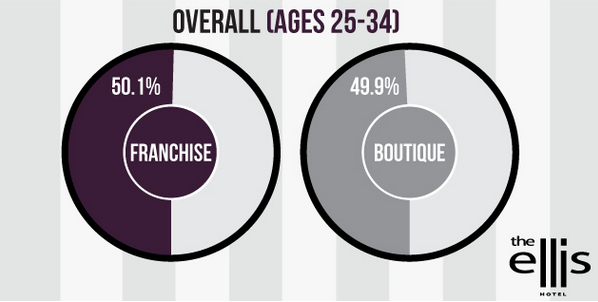 May 29, 2014 - Over 850 Americans ages 18 – 65 and over were questioned to find Americans' preference in hotel accommodations when faced with either staying in a franchise hotel or a boutique hotel. The survey, completed on behalf of The Ellis Hotel in downtown Atlanta, Ga, uncovered that the results are nearly split with 58.7 percent choosing franchise hotels and 41.3 percent opting for a boutique hotel options.
The Ellis Hotel then proceeded to consider different demographics within the survey. In their research, it was discovered that younger Americans ages 18 – 34 were more likely to choose a stay in a boutique hotel than Americans 35 years of age and up. In addition, over half of the Americans ages 18 – 34 surveyed that also resided in an urban community were found to prefer a boutique hotel, with 52.8% choosing the benefits of boutique accommodations over what a franchise hotel offers. A closer look within those results finds that nearly three-fifths of urban residing Americans ages 25 – 34 choose boutique hotels over a franchise hotel option.
A boutique hotel offers a personable stay, providing guests with a homey feel while still featuring all the convenience found at a franchise hotel. Housing fewer than 125 rooms, a smaller sized boutique hotel with a metropolitan city center location are often only a short walk away from many city attractions and must see's. Mirroring the style and attitude of the city they reside in, boutique hotels provide a creative and unique hotel experience that is rich in both accommodation standards and community presence, often reflecting the city's art and music scenes within their hotel.
For a more in-depth look into the survey results or to view the findings yourself, please visit
http://blog.ellishotel.com/boutique-hotels-attracting-younger-americans/
.
The Ellis Hotel is a premier boutique hotel in the heart of downtown Atlanta, Georgia. With special services and packages for business travelers, female travelers, travelers with allergies & asthma, extended stays, couples, pet owners, and families; anyone can come to enjoy a nice dose of Southern hospitality. To find out more about how the Ellis Hotel can help improve your meeting in Atlanta, contact the Ellis today:
http://ellishotel.com/
.