Range of Gas Griddles for Commercial Kitchens from Thames Valley Catering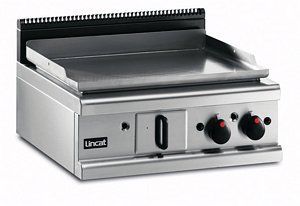 May 29, 2014 - Thames Valley Catering can offer businesses of any size a wide range of gas griddles from world leading brands as part of their commercial food service. The company say "whether you have a fast food truck or a steak house", a wide range of gas griddles which are mush quicker at heating up that electric griddles are available. Gas prices may rise and keep rising causing concern for prices, but the quality of food and how quick and efficiently it is cooked come out winning says Thames Valley Catering.
At Thames Valley Catering a large variety of gas griddles are available to buy online. The company have three that they recommend from Lincat which include the Lincat GS4, Lincat OG7201 and Lincat OG7204. All of these Lincat Gas Griddles come with thick steel plates to allow for an even heat distribution which creates excellent heat retention, also. All of the griddles have an adjustable thermostat which insures that it is always at the correct heat, with an option between natural or LP gas available.
Thames Valley Catering say that the Lincat GS4 is the smallest gas griddle out of them all, being only 450mm wide with only a 12mm thick plate compared to the other two. The other two have 16mm thick plates. The Lincat GS4 has the benefit of the fully welded plates which eliminate any dirt making for a fair easier clean overall.
The Lincat OG7201 is a much larger option suitable for more commercial kitchens. It's around 700mm wide and due to its larger size it allows for independently controlled heating for quieter periods of the day, much like the Lincat OG7204. Both of these options can offer customers a cooler holding zone at the front of the griddle plate. The Lincat OG7201 and OG7204 offer extra accessories such as wide floor stands and splashguards. The main difference between these more advanced options is the size. The Lincat OG7201 is 700mm and the Lincat OG7204 is 900mm.
Thames Valley Catering provide not only gas griddles, but also a wider range of commercial kitchen equipment. These include beverage machines, display equipment, food preparation, warewashing and much more.
Email Thames Valley Catering