Central Service District Location enables Warrenton to emerge as a commerce hotspot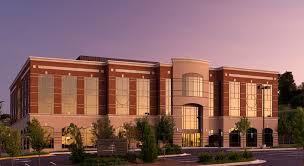 May 30, 2014 - WARRENTON, Va.- Recently, Warrenton has outgrown its commuter feel and become a true central hub for companies, redefining travel, mobility and progress, especially with the innovative Blackwell Office Park to entice businesses. Picturesque and historic Warrenton, Virginia offers a classical lifestyle combined with regional access. No matter where your clients or your customers are located, getting here and going anywhere from here is convenient and easy.
Blackwell Office Park is the location offering architectural prominence combined with Green Clean construction to position your regional office. From internationally-acclaimed Gold Cup to George Mason's newest incubator, the Fauquier County seat Warrenton, is the epicenter. Warrenton is a bustling service district with a mix of national and regional professional companies, varying from well-known accounting firms, civil engineers and technological companies to government and municipal service providers. Notable growth in Warrenton's hospital/medical industry is also evidenced by the recent merger between Fauquier Health and LifePoint Hospitals to share ownership of Fauquier Hospital and an adjacent rehabilitation and nursing center with 113 beds.
Blackwell Office Park mirrors the high quality of lifestyle in Fauquier with a state-of-the-art complex merged with an eco-friendly approach that does not sacrifice destination access. Warrenton offers companies ease of travel to a number of key surrounding locations from Dulles and National Airports and the other prime Northern Virginia and Washington, D.C. destinations, as well as to Fredericksburg, Charlottesville, Richmond, Front Royal, Winchester, and the increasingly important government facilities located in these corridors.
In the heart of the thriving regional hub, Warrenton and Blackwell Office Park's accessibility drives businesses in from the surrounding districts, such as Culpeper, Middleburg, Gainesville and even farther, reaching the Washington Metro Area as well as Fredericksburg, Charlottesville, and Richmond. A testament to the growth of the Warrenton hub, commercial sales remained strong through the downturn with early growth as the economy recovered.
"As commuter patterns change, service districts have no choice but to react," says Miles Friedman, Director of the Fauquier County Department of Economic Development. "Business owners are seizing the opportunity to stay closer to home and in turn this draws in business from the surrounding districts, giving Warrenton an advantage as a central commerce hub at the heart of the region."
As the entire country develops a stronger attitude of environmental consciousness, Warrenton led with Blackwell Office Park. Equipped with the most modern technology and infrastructure, the building boasts sustainability to its core. Quite literally, Blackwell Office Park's UltraTouch insulation is composed of recycled blue jeans and its VOH paints, glues and adhesives of soybeans. Not to mention the building has gone paperless in the truest sense; the interior drywall itself includes no paper. Tenants breathe without fear in the clean environment.
For more information about Blackwell Office Park and remaining office opportunities, contact John Lesinski of Colliers International at 540-754-1618 or email
john.lesinski@colliers.com
.
Email Blackwell Office Park