You Plus 2 Parenting Publishes "When Mommy Has Our Baby"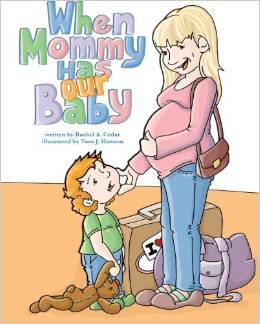 June 3, 2014 - You Plus 2 Parenting, a parenting support service specializing in toddlers & preschool-aged children, as well as in new and expectant 2nd time parents released their first children's book last week entitled
"When Mommy Has Our Baby."
According to founder and author Rachel Cedar, "This book should be in the hands of every 2nd (or 3rd! or 4th!) time parent hoping to help prepare their older child(ren) for the arrival of a new baby."
Say Cedar "When Mommy Has Our Baby is different from practically every other children's book in the market on this topic because it addresses the rarely discussed time before the baby arrives. It's a tool that the parent can use to explain to their child where Mommy will be when she goes to have the baby and who will stay with the child while they are apart."
Cedar also address the common and expected feelings that children have as they are experiencing such a momentous family transition, normalizing and empathizing with the older child while encouraging them to express their emotions and ask for support.
Beautiful, whimsical illustrations by Tara Hannon bring this story to life.
"When Mommy Has Our Baby" is NOW available exclusively on Amazon in both paperback and on Kindle. Purchase your copy
HERE
today.
Email You Plus 2 Parenting