CHIPWICH ® Goes Italian - Delizioso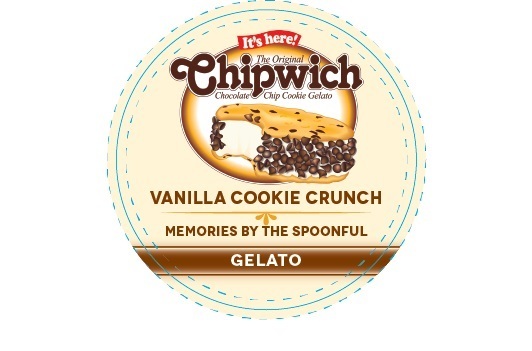 July 26, 2014 - Pompano Beach, Florida - RetroBrands U.S.A., LLC today announced that it has re-launched the famous Ice Cream Brand CHIPWICH® to Gelato lovers throughout the United States of America and Canada through its New York distributor
Marina's Ice Cream
. The new brand, CHIPWICH GELATO ™ was developed by the Award Winning Master Gelatiere Mauro Petrini and his dedicated team at
Gelato Petrini
located in Delray Beach, Fl.
CHIPWICH GELATO ™ will be available in July throughout New York City and is packaged in convenient pint size containers. Chipwich Gelato ™ pints are Kosher, filled with delicious vanilla gelato, crunchy cookie crumbs and mouth -watering chocolate chips.
The famous ice cream brand CHIPWICH® has been voted the # 6 most iconic dessert brand in America by TIME Magazine and is loved by millions of consumers. Stop by your nearest store and ask them to get you the new CHIPWICH GELATO ™ today!
About Retrobrands USA LLC: Retrobrands USA LLC owns famous trademarks like Ken L Ration ™ dog food, Hai Karate® after shave cologne, Sani-Flush ™ toilet bowl cleaner and many others is poised to lead the new emerging category of "Re-Launching Famous but Abandoned Brands" targeting 70 million baby boomer consumers who fondly remember these wonderful products. Additional information can be found at
www.retrobrands.net