Audio4fun Gets Users Excited with Attractive Offer on 'Talk like a Pirate Day'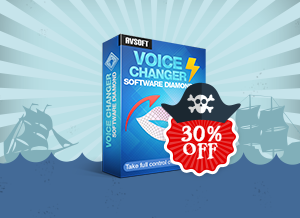 September 18, 2014 - On September 19, all the pirate enthusiasts usually gather and celebrate this great international day with various activities. Pirate costume creation is a must, but the experience will be upgraded to a new level of joy if everyone can even speak like a real pirate. For this reason, Audio4fun is offering the "powerful weapon," - AV Voice Changer Software Diamond to its users at an attractive discount of 30% OFF. More information can be read at
http://www.audio4fun.com/promotion.htm
Voice Changer Software Diamond
is a popular real-time voice processing software program that helps everybody sound croaky like any of the notorious pirates they adore. Its capability of working with many online voice chat systems will bring its users and their friends many entertaining times and surprises. "Our customers are very creative in dressing up like a pirate, but it will be no fun if they don't have the pirate tongue. That's why we want to focus on Voice Changer Software Diamond, as this morphing suite is the perfect choice for creating pirate voices," said Chris R.F, Quality Administration Manager at Audio4fun.
To talk like a villainous pirate in a low and husky voice, users can get this voice changer software installed, and turn it on. Its rich library of unique "nickvoices", an advanced Voice Morpher that controls the human's timbre and pitch level, and other brilliant voice modifying settings will help pirate enthusiasts choose the desired pirate voices, such as Jack Sparrow, Long John Silver, Captain James Hook, etc. All readers can find more specific details on this program at
http://www.audio4fun.com/voice-over.htm
"Let's release the piratitude inner you with pirate cosplaying, talking like a unique villain of the 'cybersea', along with other fantastic activities," added Chris, "Happiness and treasures are waiting for ye, so let's set sails, mateys!"
This special offer of a 30% discount on AV Voice Changer Software Diamond 8.0 will last through September 25, 2014. All pirate enthusiasts can also plunder
www.audio4fun.com
to hunt for more "secret weapons" before preparing to be boarded.