Holiday rental owners and agents getting control back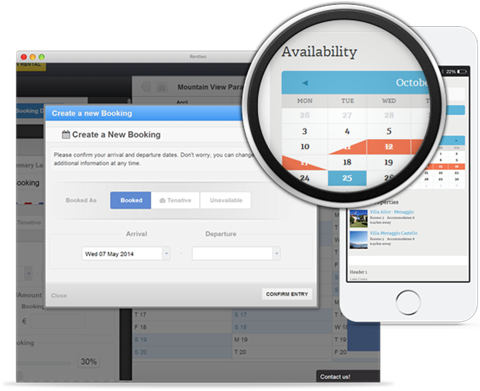 June 29, 2014 - Rentivo.com from Aptenex Ltd. is the latest in a series of technology driven holiday rental marketing platforms, but with an inventory and owner centric approach. Built by a technology company with a rental advisory board the business is being extremely well received by the industry.
The major business model difference is that Rentivo is designed with owners, agents as their primary target; essentially the inventory controllers. Rentivo provides a range of useful and adaptable tools and also completely free marketing with direct enquiries, for life, from its own listing platform. Well equipped and informed owners will see better guest experiences and traction on listings as well.
The global rush to monetize guest bookings and drive the industry toward an online hotel model has seen a massive backlash as owners and agents struggle with marketing communication, payments and guest problems. Third party control of a fragmented international multi-level business will continue to see many problems at inventory level control and income management.
Holiday rentals are projected to grow rapidly over the next few years and the complex nature of the business and changing nature of travel will see a polarization of approaches to management and bookings.
Owners and agents are now searching for alternative more cost effective methods to both generate direct undiluted enquiries and manage their businesses. Rentivo's target market is the the whole industry, but owner focus is of primary importance as this also ensures a good guest experience.
Over the last few years the largest and best know marketing platforms such as VRBO.com, ownersdirect.co.uk, holidaylettings.co.uk etc have all been acquired by companies such as PriceLine and HomeAway who are pushing toward a no guest contact, hotel booking model with payment and communication controls. Online research, bookings and payments are increasingly important for guest, but owner or agent control of this process is now seen as fundamental to the successful running of their businesses.
New players such as HouseTrip are also attempting to take a share of this new "rental-hotel model" business and also confusing guests further. Holiday rentals however are not hotels, they are often mortgaged residences with high fixed overheads, with potential guests who need answers to many questions. Diluting an owner's income further, retaining payments until guest departure and manipulating correspondence is causing industry havoc at all levels.
Rentivo is designed to put power back in the hands of the inventory holders with advanced online tools and allow guests to liaise freely and guests pay securely!