Dallas Allergist Dr. Barbara Baxter Launches New Website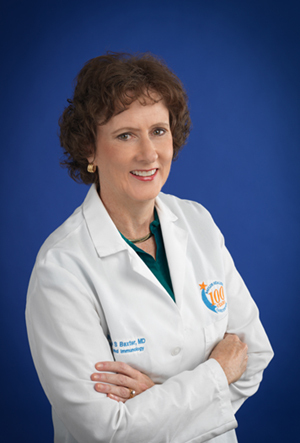 July 1, 2014 - Dr. Barbara Baxter, a board certified allergist in Dallas, Texas, is pleased to announce the release of her new website,
www.allergydoctordallas.com
. The website showcases all of the services provided at her state-of-the-art allergy, asthma and immunology practice. Dr. Baxter has built the website to educate potential patients on various conditions and help them explore their treatment options.
Dr. Baxter's website features in-depth information on the various allergy, chronic respiratory and immunology conditions that she treats. Website visitors can learn the signs and symptoms of these conditions, how they are diagnosed and treated, and how to manage conditions such as
food allergies
that are not curable. Dr. Baxter has more than 20 years of experience as an allergist and has found that people who suffer from allergies and respiratory conditions are often unaware that they have them. She is pleased to provide information to help them come to the correct diagnosis and improve their quality of life.
The new website also highlights Dr. Baxter's education, training, experience and accolades, to showcase her expertise in the field and help individuals throughout the Dallas area feel more comfortable about scheduling an appointment at her practice. It also details Dr. Baxter's wellness philosophy, which focuses on treating patients as a whole, not just as a set of symptoms. In addition, visitors can watch videos and read testimonials from Dr. Baxter's former patients to see the kind of results she is able to achieve.
Current and prospective patients can stay up to date on the latest news from the practice and the latest developments in the field by browsing
Dr. Baxter's blog
. They can also visit the website to stay connected with the practice via social media platforms.
Lastly, Dr. Baxter makes it easy to take the first step toward treatment with an online appointment request form.
More about Dr. Barbara Baxter
Dr. Barbara Baxter is a
board certified allergist
who has been treating patients throughout Dallas, Texas, for more than 25 years. She is a fellow of the American College of Physicians, American Academy of Allergy, Asthma & Immunology and the American College of Allergy, Asthma and Immunology. In addition, she spends a good deal of time working with the next generation of physicians as a Clinical Associate Professor of Internal Medicine at UT Southwestern Medical College. Dr. Baxter offers treatment for a wide range of allergies, respiratory conditions and immune deficiencies. If you are interested in learning more about the treatment available at Dr. Baxter's practice, contact her today at 214-363-8653.
Dr. Barbara Baxter
6114 Sherry Lane
Dallas, TX 75225
(214) 363-8653