Interior Designer Elizabeth Lamont of Malibu's Room at the Beach Shares Fourth of July Party Ideas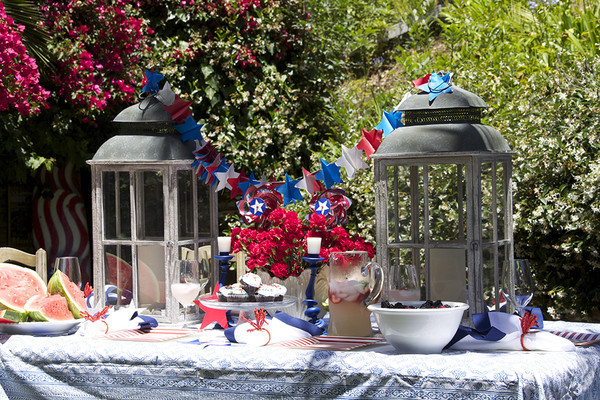 July 3, 2014 - Fourth of July can easily be our favorite holiday at Room at the Beach. Everyone is flocking to the beach and the parties go on for days! We never get tired of decorating with red, white and blue…we love to add vintage touches even in the most modern setting.
This year we decided to share not only a gorgeous setting, but we wanted the food to be healthy as well as fun. The table uses the best of the summer from outdoor lanterns, to bunches of red carnations with pinwheels for sparkle. We love mixing formal and casual. Striped paper plates and plastic glasses (nice ones that look like the real thing) combined with crisp linen navy and white napkins with coral napkin rings looks fabulous. If you're serving burgers or hot dogs on the 4th, use some simple baskets lined with parchment paper and tuck burgers and fries neatly in them. You can find cheap baskets anywhere and with the parchment paper lining, cleanup is a breeze!
For this Holiday you really can't have enough stars and flags, so add them any chance you get. Think of different ways of using them: coasters, cocktail napkins, or even as garland. Hang flags from balconies, on retaining walls over the pool - anywhere you have the space. We have a lot to celebrate as a country so bring it all on!
Here are some more ideas for your party:
Invitations
Make it easy but classy with electronic invites from Paperless Post like this cute vintage
design
.
Healthy BBQ alternatives:
Sweet potato fries
Grilled shrimp salad, cobb salad or healthy grilled food like turkey burgers, chicken sausage or chicken drumsticks
Homemade frozen popsicles
Drinks: American craft beer selection for the adults: find a local store that carries a good selection or order online from www.beeronthewall.com. Root beer for the kids!
Simple Lemonade
Activities for kids (and some for adults):
Slip & slide or water guns
S'mores
Glow in the dark necklaces & bracelets
Bubbles
Sparklers
Decorations:
Buy tin buckets and red, white blue spray paint. Use masking tape to make stripes, spray paint and peel off. Fill with sand and stick in pinwheels and flags.
Set your playlist to country music
Bandana napkins
Sunflowers
Red carnations
Flags and stars in any form!
And last but not least, think safety:
Have bug spray, sunscreen, band aids & Taxi Magic app for the drive home!
Fireworks
Most cities have official or private fireworks displays you can catch. In Malibu there are always private industry parties that have firework displays set off from barges off the coast of some of the most famous beach front residences. Google "Fireworks display [your city]".
Elizabeth Lamont is an interior designer and the owner of Room at the Beach, a Malibu, California store that encompasses the entire concept of home, from total interior design to the smallest accessory ľall to bring a fresh California lifestyle to its clients. For more information visit:
www.roomatthebeach.com
.